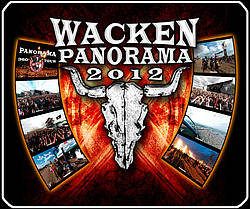 W:O:A 3D Panorama 2012 - Video Update
As promised we did an update at the famous W:O:A 3D Panorama.
The update includes unpublished live material from Saxon, Dimmu Borgir, U.D.O., Decapitated, and Red Fang. Just click on the new video buttons at the mentioned panoramas!
Feel the metal party of the year for the second time at your home! In 360°, 3D and with a stunning zoom feature.
You can find many interesting panoramas at the categories festival, plaza, Bullhead City Circus, Thrash Of The Titans Field and Bands. And there is also an interactive map which helps you to choose the right panorama and scene you want to see.
You can find the panorama here!