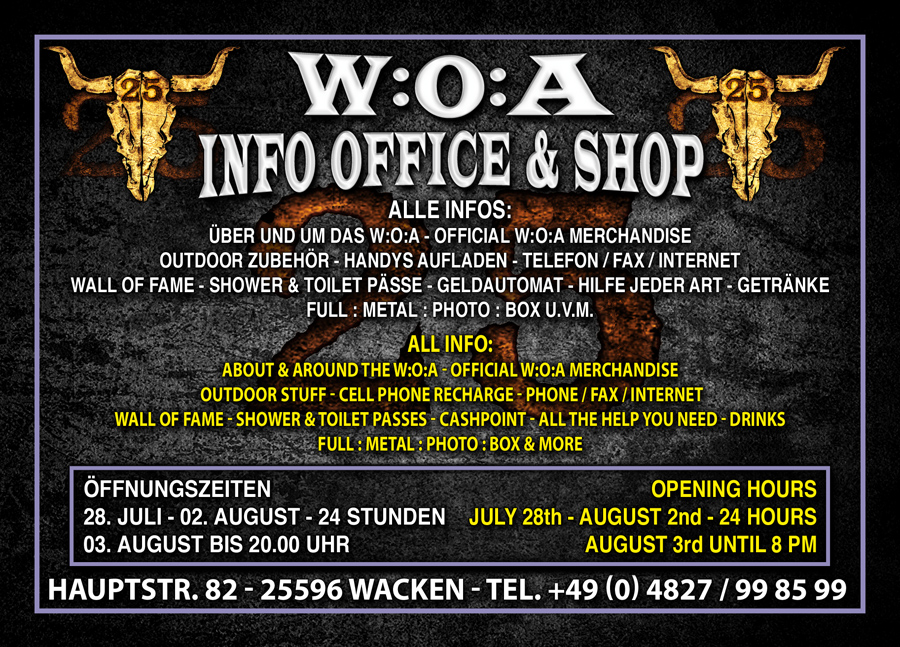 W:O:A Info Office & Shop - Opening Hours during the Festivals
As every year the W:O:A Info Office will open its doors 24/7 during the festival days. There you can search advice and ask for help in case of any problems. Our dear colleagues on spot will help you as much as they can.
You also have the possibility to recharge you mobile phones, draw money on the cash point or use one of the cellphones.
The Info Office does also include a merchandising shop where you can buy merchandise and festival equipment as well as shower & toilet passes.
Further you can take a look at the Wall of Fame, get some drinks & refreshments or take some souvenir photo at the Full:Metal:Photo Box.
This year´s Opening Hours are as follows:
Monday, July 28th to Saturday, August 02nd - 24/7
Sunday, August 03rd - until 20.00 H (8pm CET)
If you have lost anything on the festival you also have the possibility to get your potentially found items back at the office until Sunday.
After Sunday all found and confiscated goods will be forwarded to the Lost Property Office in Schenefeld.