Important
This article is VERY old (older than 2 years)!
W:O:A livestream 2015: The first bands are confirmed!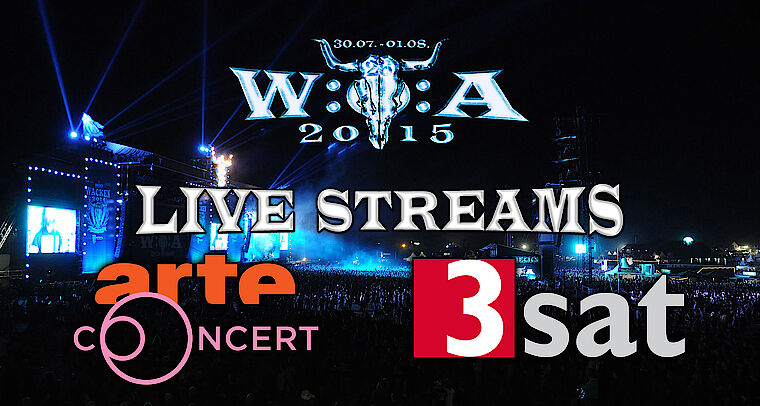 Today we can reveal the first bands that will be part of our big livestream. You can watch the livestream at www.wacken.com/live. At this page you will also be able to comment the stream together with other Metalheads!
The stream will also be available at www.concert.arte.tv/wacken and you will be able to watch the single shows in the Mediathek after the festival is over.
Please note: Due to legal reasons, the stream will be only available in Germany, Austria, Switzerland and France.
The list is not conclusive and changes are possible at short notice.
Thursday, 30.07.2015, 17.45 – 23.30 Uhr
17.45 – 19.05 Uhr - In Extremo
19.20 – 20.50 Uhr - tba
21.00 – 22.00 Uhr - New Model Army (recorded)
22.10 – 23.25 Uhr - Uli Jon Roth (recorded)
Friday, 31.07.2015, 15.30 – 03.00 Uhr
15.30 – 16.30 h - At The Gates
16.45 – 17.45 h - Queensryche
18.00 – 19.15 h - Opeth
19.30 – 20.45 h - Dream Theater
21.00 – 22.15 h - tba
22.30 – 23.45 h - In Flames
00.00 – 01.30 h - Running Wild
01.45 – 03.00 h - The BossHoss
Samstag, 01.08.2015, 14.30 – 03.00 Uhr
14.30 – 15.45 h - Amorphis
16.00 – 17.15 h - Danko Jones
17.30 – 18.45 h - Rock Meets Classic
18.55 – 20.10 h - Dream Theater (recorded)
20.15 – 21.15 h - tba
21.15 – 22.00 h - The BossHoss (recorded)
22.00 – 23.30 h - Sabaton (time-displaced)
23.30 – 00.15 h - In Flames (recorded)
00.15 – 01.30 h - Cradle of Filth
01.45 – 02.45 h - Subway to Sally