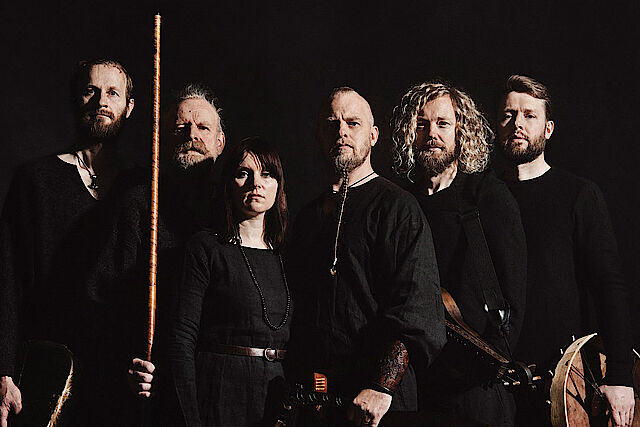 Running Order
Stage: TBA
Day: TBA
Time: TBA
Biography
"We are very happy to finally share this long-overdue album with you all. In this past period leading up to the release, it has been truly overwhelming to see how well you have received the songs we have shared so far. We sincerely hope you will enjoy the rest! For me personally, this album represents a natural continuation and development of everything we have done so far. Through experience, reflection and hungry curiosity, we potentially continue to grow as humans, scholars and musicians and with this constant movement, our ability to dive deeper into our work also grows. More clearly than before, does this album and its songs address us as humans in our own time. And even though the songs convey ways and words originating from a distant past, they are still just as much ways and words for the "now". They are ideas born out of the very grounds we still tread, which is also what gives them the ability to speak to- and resonate within us still. Let us listen carefully, and sow or reaffirm the idea or attitude that nature is something sacred." -Einar-
Kvitravn marks a distinct evolution in Wardruna's sound. The album features a broad selection of both traditional and historical instruments such as Kravik-lyre, Trossingen-lyre, Taglharpa, Sotharpa, Langeleik, Crwth, Goat-horn, Lur, Bronze-lur, flute, Moraharpa and the record also features guest appearances by a small group of prominent traditional singers, spearheaded by Kirsten Bråten Berg, one of the most important custodians of Norwegian traditional song. Throughout eleven songs, Kvitravn discusses Northern sorcery, spirit-animals, shadows, nature and animism, the wisdom and meanings of certain myths, various Norse spiritual concepts, and the relation between sage and songs.
The authenticity of their performance, the epic visual landscapes and symbolic animals evoked by the music and lyrics have been showcased in several jaw-dropping videos - some reaching viewers in their millions. Starting with the starkly beautiful, minimalist and arguably most political piece, "Grá" - an ode to the wolf, and a reminder that humans and creatures have existed side-by-side in a mutual, though wary, relationship. The video for the title track "Kvitravn" reveals a powerful narrative centred around this sacred, elusive creature, and namesake of the album. Einar Selvik revealed in a special Solstice broadcast of the Skaldic version of album track "Andvevarljod - Song of the Spirit-weavers" that this particular piece was the starting point for the entire album, and explores the Nordic deities of fate; the Norns, the spinning of life threads and the Norse and Sámi common idea that a person's spirit is connected to wind, both before and after birth. Most recently the lyric video for "Skugge", recalling the subtle majesty of fan-favourite "Helvegen, gazes inward, about seeking answers and wisdom internally. Finally, stand-alone single "Lyfjaberg" (not appearing on the album) is a powerful reminder of some valuable Norse wisdom, "To climb the Healing-mountain is a journey for the mind and spirit as much as the feet and body. Anything of true value, comes at a true cost." - Einar Selvik
For those looking to delve even deeper into Wardruna's world, we recommend a four part mini-documentary series which can be viewed on the band's Youtube channel. In these four short pieces, Einar guides the viewer more deeply into the thoughts, processes and inspiration behind the music.