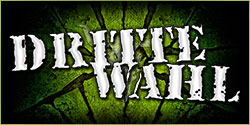 Punk and metal have a lot in common, this is especially visible when it comes to crossover bands. Because of this, we are celebrating punk and hardcore bands in Wacken since the nineties!
Dritte Wahl
Dritte Wahl are true Wacken veterans. The punk band rocked the festival in 1996 and 1998 and will now return again - 20 years after their first show at Wacken! A lot of things have changed since that day and we're looking forward to welcome them again.
John Coffey
Dirty punk rock with hardcore elements from the Netherlands, that is also touching pop tunes some times - this is John Coffey! They released their third album "The Great News" earlier this year and we can't wait to see the talented musicians live.
Negative Approach
Oldschool hardcore is always welcome and we like to announce the first Wacken show of Negative Approach! The band was found in Michigan in 1981, but splitted up in 1984 already. In 2006 they tried it again and since then, they are rockin the stages in Europe and the United States again!
Stick to your Guns
Metalcore and Hardcore are the two pillars of Stick to your Guns. The young band was founded in 2003 and gathered a huge fanbase in this time. By now, they have released 5 albums.
The Goddamn Gallows
Spectacular live shows, a brutal background story and a strange choice of instruments: The Goddman Gallows are playing "hobocore"or "gypsy-punk" and are using instruments like a banjo and an accordeon. The band spent several years in rotten houses and on the street but never gave up the music - and now they are finally coming to Europe to play their songs!
More about The Goddamn Gallows
And here are the x-mas winners from the 6th of december 2015:
Marco P - Schacht-Audorf
Petra K - Mülheim a. d. Ruhr
Moritz B - Freiburg
Simon J - Münster
Ina K - Oberriexingen
All winners will be informed by mail!
Tomorrow we will announce the next bands and xmas winners!