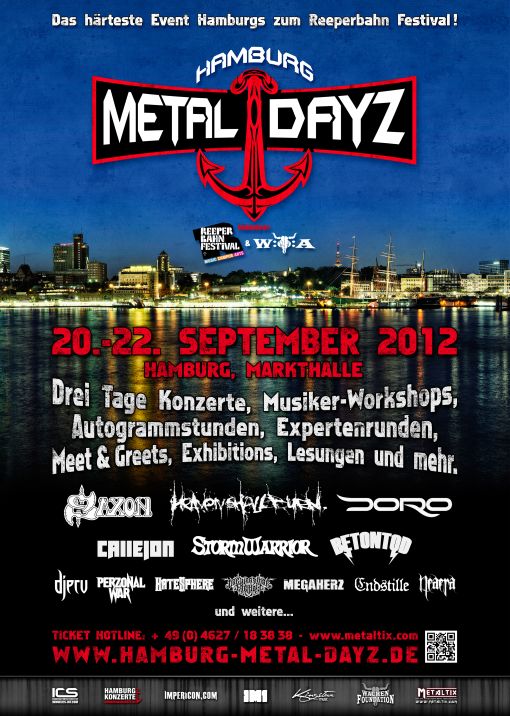 Hamburg Metal Dayz - supporting programme announced
The 1st Hamburg Metal Dayz offer a lot of entertainment in addition to band performances and panels: workshops, comedy, readings… Today we can announce the additional supporting programme!
GUITAR-WORKSHOP WITH ULI JON ROTH
Saturday, 22.9. – 5 PM - Markthalle
The legendary guitarist Uli Jon Roth, who is known since the 70s as a member of the Scorpions and as a solo artist, will offer a view into his special musical world, which even makes heroes such as Joe Satriani and Kirk Hammett (Metallica) fall to their knees in awe.
READING: "Kumpels in Kutten" with Bobby Schottkowski (Ex-Sodom) as guest
Friday, 21.9. - 5:30 PM - Markthalle (German only!)
"Kumpels in Kutten - Heavy Metal im Ruhrgebiet" and "Century Media. Do it yourself – Geschichte eines Labels"?with: Christian Krumm and Bobby Schottkowski (Ex-Sodom)
Author Christian Krumm is reading from his two books about the world of the heavy music. "Kumpels in Kutten" (Buddies in patched vests) tells the story of the unique metal scene in the Ruhr district of Germany, spawning legendary bands, labels, media and venues, from the 80s until today. "Century Media" carefully examines the formation of the scene-shaping label from Dortmund. Who would be more fitting as a guest than a veteran of Metal and the Ruhr district alike? Enter Bobby Schottkowski (Hungöver, Ex-Sodom)!??
COMEDY: MOSES W. and THE HEAVIES
Saturday, 22.9. - 3:30 PM - Markthalle (Moses W. in German only!)
Moses W. is a stand-up comedian from Germany. On Metal Dayz´s Saturday, he is reading from his book "Das rockt!" (This rocks!). Afterwards he is playing metal-classics from AC/DC to ZZ Top acoustically with his partner "Fast" Eddie Arndt as The Heavies. Irish Folk meets British Steel, if you will.
READING: TILL BURGWÄCHTER
??Thursday, 20.9. – 6 PM - Marx (German only!)
Till Burgwächter – passionate meat eater, frenetic soccer fan and in general a really friendly guy – has been commenting about Heavy Metal, soccer and other really important things for the last ten years in his own a sharp and comical way. His books "JGTHM - Juhr Gait tu Hewi Mettäl" (Your guide to Heavy Metal), "Schmerztöter" (Painkiller) and "Väter, Völker und Vandalen" (Dads, nations and vandals) regularly go on reading journeys with him and attack the world. The only thing is: You have to have some humor…??
READING: VOLXBIBEL
Saturday, 22.9. - 3:30 PM - Marx (German only!)
The "Volxbibel" (The people's bible) is a reworking of the bible, done by people as part of an open source project. As a result, the language is transformed to this day and age and sounds younger. Martin Dreyer, a theologist and author, has been reading from the "Volxbibel" at this year's Wacken:Open:Air.
Tickets are available at www.metaltix.com
Further information regarding programme, bands and much more can be found under the following link: