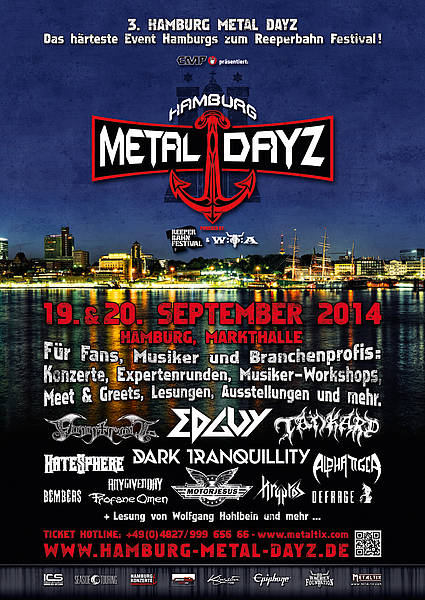 Hamburg Metal Dayz – the full programme
On Friday, the doors of this year's Hamburg Metal Dayz finally open. Today we want to give you an overview of everything we have in stock for you there.
First of all, there are of course the bands that will rock the Main Hall and the Marx with you. Among them are for instance the Melodic Death icons Dark Tranquillity and German Power Metal Group Edguy, whose new album "Space Police – Defenders Of The Crown" was a chartbreaking success. Finntroll have prepared something special for you: Since their record "Nattfödd" has been released exactly ten years ago, it will be the core of their set on Saturday. Tankard will not only have a huge party with you, but will also present their new book project. Furthermore, we're looking forward to great concerts from Beyond The Black, Kryptos, Any Given Day, Alpha Tiger, Profane Omen, Hatesphere, Motorjesus and Mambo Kurt.
Aside from music, there will be Heavy Metal Comedy by Bembers, a reading by Germany's most successful Fantasy author and Metalhead Wolfgang Hohlbein, in the Foyer you can meet the acts and have a little chat with them. You are a musician yourself? Then check out the workshop with Axxis guitarist Marco Wriedt and Alex Landenburg, drummer in Luca Turilli's Rhapsody, and get some helpful hints. In addition to all this there will be exhibitions and those of you who were lucky and got an appointment can look forward to their free tattoo.
Since the whole Metal business will be covered, we put up some interesting panels and invited experts who will for example discuss further trends in our scene and the live sctor with you. Of course, Holger Hübner and Thomas Jensen, the promoters of Wacken Open Air, are again looking forward to your questions and input on the festival and more.
Here you can find more detailed information on the Hamburg Metal Dayz 2014.