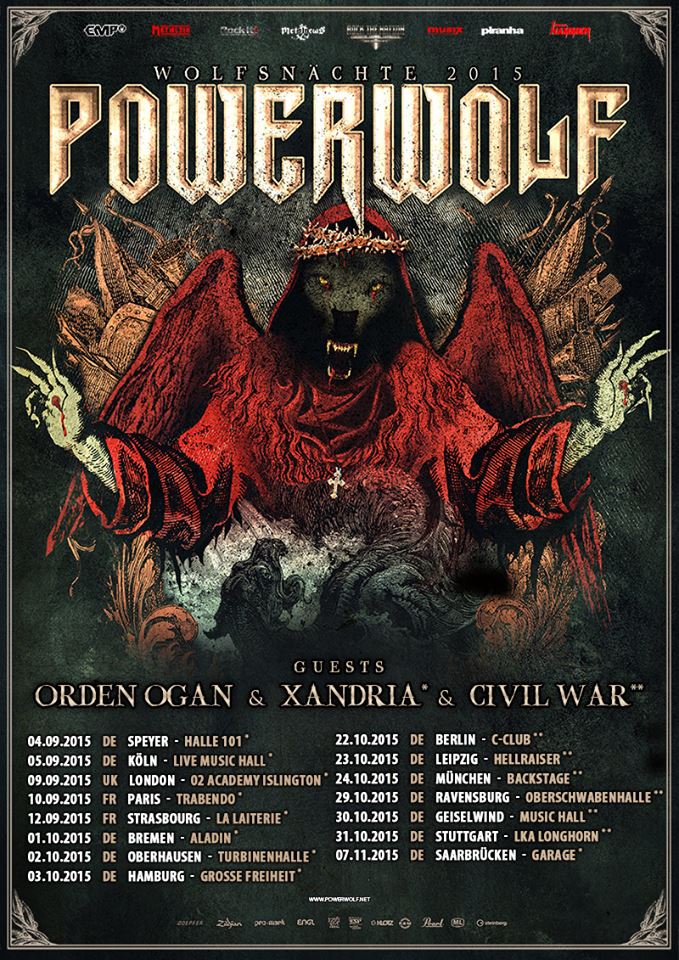 Powerwolf announce support Acts
Powerwolf revealed their guest fo Wolfsnächte Tour 2015: Orden Ogan, Xandria and Civil War will join the pack!
With their last album "To The End" Orden Organ established themselves on top of the German Power Metal scene. Their trademark choirs, crunchy riffs and dark atmosphere separate them from their peers and make every song a hymn of it's own. With their new record "Ravenhead" the band continue their victory parade and entered the Top 20 of the German Album Charts.
Since 1994, Xandria stand for Symphonic Metal that doesn't need to hide from international competition. On their recent album "Sacrificium", the first recorded with new singer Dianne van Giersbergen, the band from Bielefeld stays true to their virtues: Majesty, mystery and power. Xandria will join Powerwolf from September 4 until October 3 as well as on November 7.
The remaining shows will feature Civil War. Consisting of ex-Sabatonmembers Rikard Sundén , Oskar Montelius, Daniel Mullback und Daniel Mÿhr plus Astral Doors-singer Nils Patrik Johansson and Volturyon-bassplayer Stefan "Pizza" Eriksson. Their second album "Gods And Generals" will be released in May.
Each of these three bands contribute one song to the exclusive Tour Ep with the unreleased Powerwolf-take "Stronger Than The Sacrament", which you can add to your ticket order at www.metaltix.com for only € 1,30 in addition.
Powerwolf - Wolfsnächte 2015
04.09. Speyer, Halle 101 (w/ Orden Ogan & Xandria)
05.09. Cologne, Live Music Hall (w/ Orden Ogan & Xandria)
01.10. Bremen, Aladin (w/ Orden Ogan & Xandria)
02.10. Oberhausen, Turbinenhalle (w/ Orden Ogan & Xandria)
03.10. Hamburg, Große Freiheit 36(w/ Orden Ogan & Xandria)
22.10. Berlin, C-Club (w/ Orden Ogan & Civil War)
23.10. Leipzig, Hellraiser (w/ Orden Ogan & Civil War)
24.10. Munich, Backstage Arena (w/ Orden Ogan & Civil War)
29.10. Ravensburg, Oberschwabenhalle (w/ Orden Ogan & Civil War)
30.10. Geiselwind, Music Hall (w/ Orden Ogan & Civil War)
31.10. Stuttgart, LKA (w/ Orden Ogan & Civil War)
07.11. Saarbrücken, Garage (w/ Orden Ogan & Xandria)