Important
This article is VERY old (older than 2 years)!
We need your help: Please activate the new security feature in the WOA app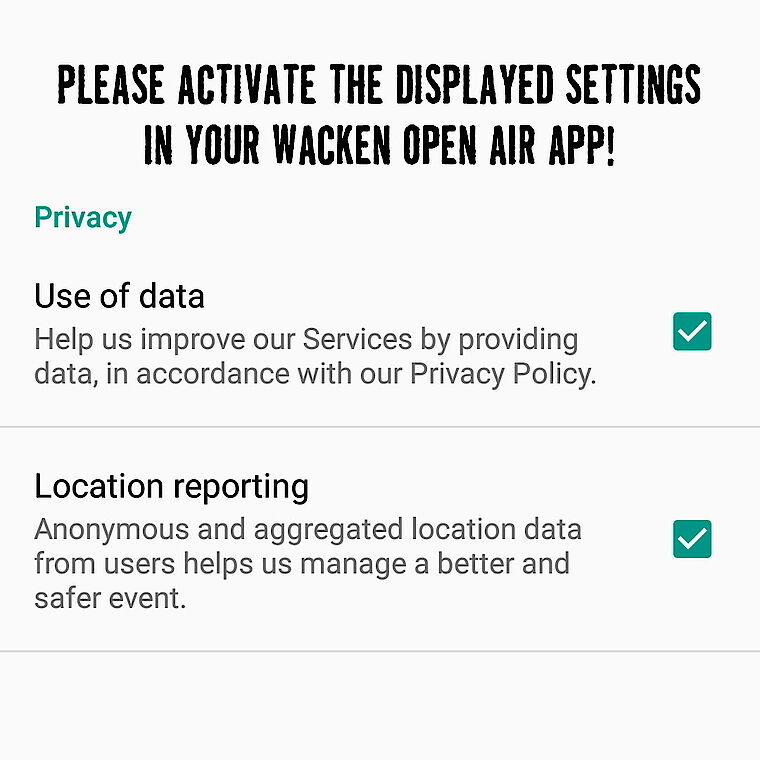 We need your help! Please activate the displayed settings in your Wacken Open Air app - it will help both you and us. Enabling the options allows us to see live heatmaps of the festival area.
Everyone remains anonymous!
We only see bubbles on a map, but it helps us to identify problems, e.g. extremely long queues or even dangerous situations – and it can help to resolve them, because we can send messages to the people inside this area.
We promise you: Everyone remains anonymous. The data is only available to us and our service provider and it will remain in our hands. We only use it to improve the festival experience for everyone.
This is how you set the settings: Simply click on the silhouette in the upper right corner of the app and then on the gear wheel. Scroll down until you see the option "Location reporting" and activate it.
Get the app:
iOS: https://itunes.apple.com/app/id449149127
Android: https://play.google.com/store/apps/details?id=com.wacken
Thanks for your support and enjoy Wacken Open Air!