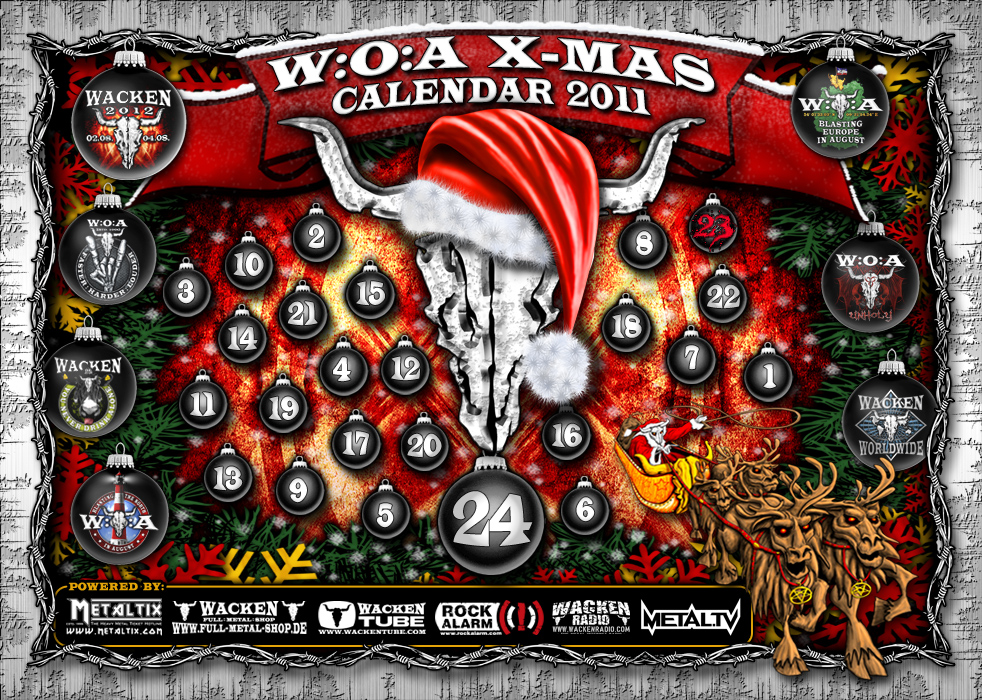 W:O:A X-MAS Calendar – The winners
After giving you one week for finding out the main solution the W:O:A X-Mas calendar lottery is now definitely over!
24 days you had to answer more or less difficult daily questions - every day you got one more letter for the big main solution.
Now we are going to reveal the big main solution which was:
Faster Harder Louder Wacken - or Wacken Faster Harder Louder (both solutions were right!)
And here are the happy winners of our main prizes:
1 Epiphone Guitar with W:O:A 2011 brand
goes to Elke J. from Meißner (Germany)
1 OverKill signed W:O:A 2010 Guitar
goes to Jaume B. from Torelló (Spain)
1 Coke Zero Kühlschrank
goes to Valentin S.from Würzburg (Germany)
1 Relentless Tischkühlschrank – powered by Relentless
goes to Sascha K. from Bad Bentheim (Germany)
1 Tisch-Bierzapfanlage (von Phillips) samt 6 Liter Bierfass - powered by Becks
goes to Martin P. from Uder (Germany)
1 Hochwertiger Kopfhörer – powered by Becks
goes to Jens M. from Oudenaarde (Belgien)
1 Frei.Wild – Allein Nach Vorn (Händemeer) Collectors Edition Buch samt 2 DVD´s und Cd
goes to Sebastian K. from Meerbeck (Germany)
1 Metal Travel Reise Gutschein im Wert von 250€ - powered by a href="http://www.mondialevents.de/" target="_blank">Mondial Events
goes to Kerstin Z. from Eckental (Germany)
1 Motörhead Collectors Bundle (standard) - powered by UDR Music
goes to Stefan K. from Viernheim (Germany)
1 Motörhead Collectors Bundle (deluxe) - powered by UDR Music
goes to Elise P. from Amiens (Frankreich)
Each 1 Yamaha Pockettrack Recorder powered by Rock Shop
goes to Suzanne B. from Aylesburry (UK) and to Jan L. from Enschede (Netherlands)
All winners will be also informed per mail!
We wish all winners a lot of fun with their prizes and thank all the others for participating as well as our partners for the fantastic prizes!
In december 2012 the next X-Mas calender will follow - so stay tuned!