Important
This article is VERY old (older than 2 years)!
No sleep 'til return journey!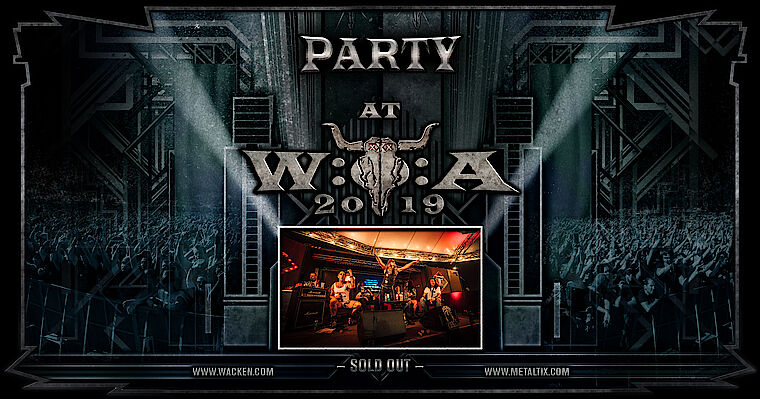 What do you need for a proper Wacken Open Air? A whole lotta party. Thankfully we got lots of opportunities to offer - not just in front of the stages. During every day the party starts at Wackinger Village and at our Wasteland. Food, drinks, far out-costumes, show fights plus music on two stages - they don't call us "harder, faster, louder" for nothing. This is still Wacken after all.
Looking for the hardest hits in metal? We got you covered with the Metal Disco featuring legendary Ballroom Hamburg DJ-Kollektiv. Or maybe you want to show the crowd that you are a rockstar yourself? Then look no further than the Beer Garden Stage where Karaoke Till Death (quite possibly the best coverband in the world) invite you to sing along and put on your own show. If you want to come prepared you'll find a list of available songs to perform at this very link.

So you prefer your daily talk with a dose of madness mixed in? In that case, we highly recommend Maschine's Late Night Show taking place at the Welcome To The Jungle Area. Your host Machine is supported by his buddy Kay Ray plus his inhouse-showband Alien Rockin Explosion. Bring your thirst and enjoy! Maybe some of you will even still be around in the morning when our famous Metal Yoga with Saskia Thode takes place at the same area. Try that for curing your hangover! And don't miss Pensen Paletti - the solo entertainer has tuned his Bumm guitar to metal especially for the W:O:A.

And what if you don't want to come to our parties? Guess what, we're simply bringing it to you. Please meet our walking acts, not only including our regulars Blaas Of Glory but also Duivelspack and Gaita Mayan. On the campground, at the bar, or at the check-in - there's no escape from the party at W:O:A 2019.