Important
This article is VERY old (older than 2 years)!
Wacken Stories: Andreas Stein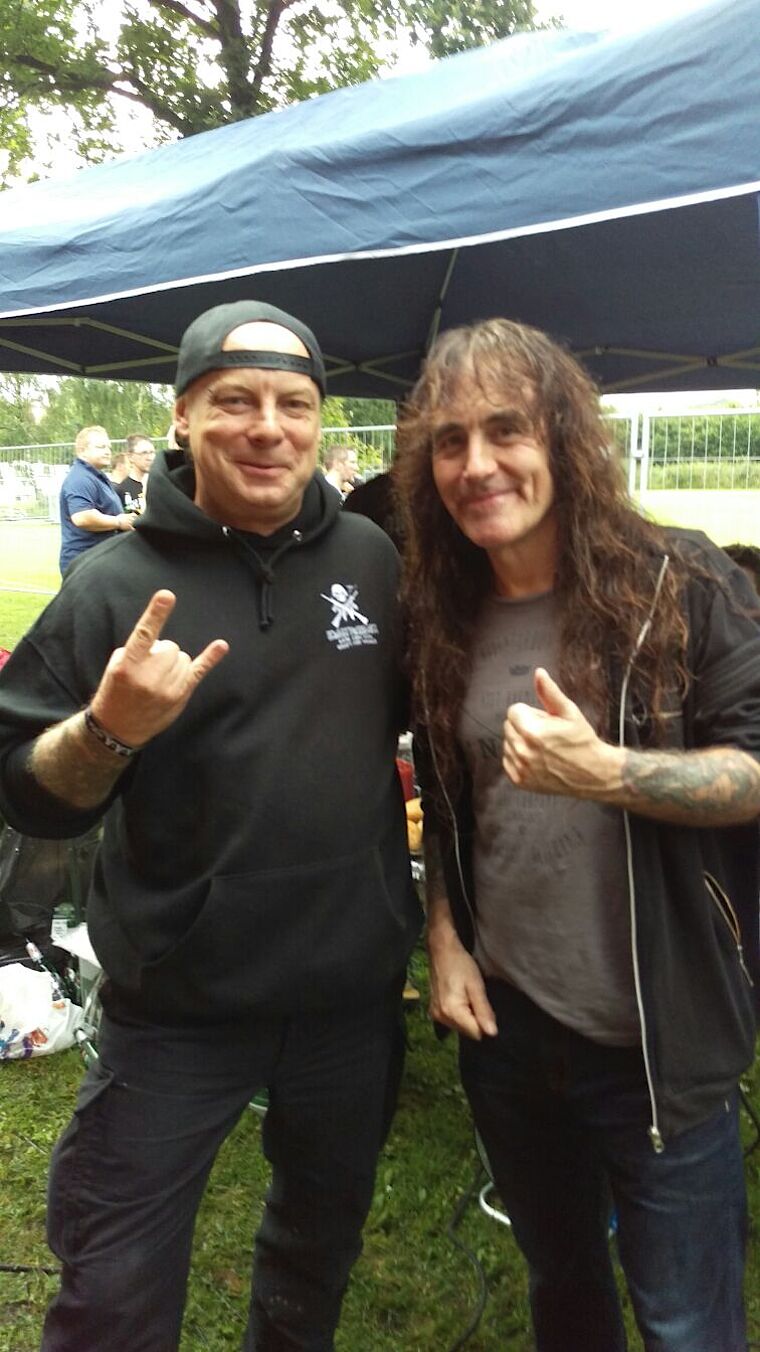 Almost 30 years of W:O:A lead to many, many great stories – crazy, heart-warming, revealing, or just plain funny. To collect those stories, we have talked to the people that live, work or party around the "Wacken Holy Ground". Their experience illustrate the festival's extraordinary spirit, so have fun with special anecdotes which you won't find everywhere else: Here are the "Wacken Stories"!
---
Andreas "Stoney" Stein (Band host, Metal veteran, occasional 18-year-old)
"Artists are just regular people"
Maybe Kreator never would have gotten their record deal without him sending out that demo. He's also been traveling the world multiple times, selling march for various bands: Andreas "Stoney" Stein really is a veteran of metal. But besides being a true professional for 30 years, he also managed to remain a dedicated fan at heart.
"My first time in Wacken was 1992 when Saxon and Blind Guardian were on the bill. Some buddies from the Heavy Metal Fan Club Velbert-Altenessen gave me a lift. Shortly after that I started to visit Wacken as a crew member with Gamma Ray or Kreator in 1996. Thinking about it now, I realize that I've been working here every year since. At some point I started selling merchandise for the festival itself. Town signs, scarves, band shirts, all that kind of stuff. Back then it was just two wooden shacks like the ones they use at Christmas markets. Later we got a 18 m long trailer, so we could open up the whole front and use it for selling stuff. Not long after that we installed multiple stalls in the festival area which nowadays is of course a common thing at big events. In 2004 I was asked to join the Artist Production team as a band host. My duties are basically the same as my friend Völle already told you about.
When I started touring back in the day I quickly realized that musicians and their crews are just regular people, and it doesn't take much to make them feel welcome. When Iron Maiden did their show here in 2016 they asked if it was possible to play a little football before their gig. This was something we gladly helped to set up. Of course everybody from our Wacken crew wanted to be part of the match. The only problem was that the festival was already in full swing so everybody had to work. In the end Maiden played the local club FC Wacken. When there's football there's also barbecue, so we went shopping at the local butchers, set up some tents, made everything look nice, and I was told to handle the barbecue itself. So when the game was over everybody came over, even Maiden boss Steve Harris joined the line. The butcher had thrown in some special sausages which I was about to put on the grill for Steve. But he was so hungry that he politely declined and asked for a regular sausage like everybody else and the good stuff to be shared amongst the others. So imagine there is one of your personal Heavy Metal legends standing right in front of you and he turns out to be a very down to earth and all around cool guy. That is exactly when you turn into a teenager again for just a couple of seconds."
Stoney's wish for the 30th W:O:A, if anything was possible:
"I really do miss Type O Negative. That's my choice."
Text: Tom Küppers
Do you want some more? All already released stories are available here!