20 more bands will reinforce the W:O:A 2023!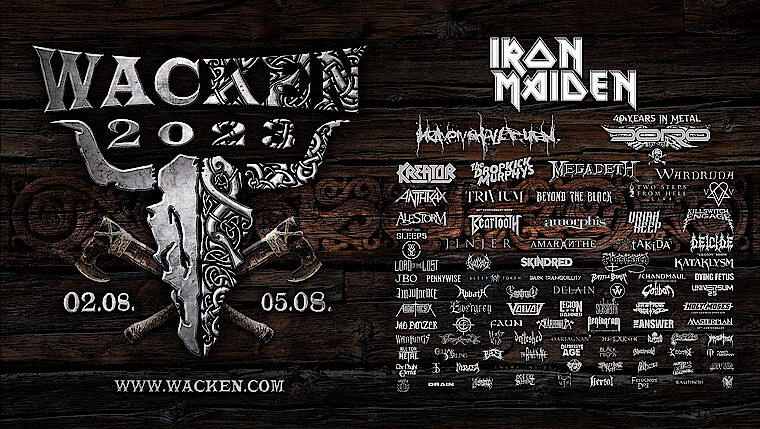 Metalheads!
Today we unleash another massive band wave! This includes many well-known faces with cult status like Voivod and Dark Tranquility as well as brand new sensations like Sleep Token or Black Mirrors, which stirred up quite a bit of dust in the scene!
Here are the bands (in alphabetical order):
All For Metal
Robin and Batman? Thor and Loki? Asterix and Obelix? Move over! Here are Antonio and Tetzel. The metal world has a new front man duo, heading in the brand-new band project All For Metal. Epic songs, goose bumps and a look and feel that Boris Vallejo would be proud of, are the themes here. A feast für the ears and eyes!
Black Mirrors
Fluttering between genres from Hardrock to Doom & Stoner via straight in your face 90s Heavy are Belgians not-so-secret-anymore female fronted Black Mirrors. With powerhouse Marcella singing her heart out and the rest of the gang delivering the full package, we are sure you will fall in love with them like we did.
Blitzkid
Never say never! In 2020 Horror-Punk fans all over the word rejoiced, because genre-leaders Blitzkid's founding members Argyle Goolsby and TB Monstrosity announced that it is time for "The Kid" to get it's sh… together again. Originally founded in 1997 they may have been influenced by the Misfits - but now they for sure are an inspiration for many others.
Cellar Darling
Switzerland is famous for its beautiful mountains, delicious cheese and the maybe not so pretty split of Anna, Ivo and Merlin from Folk Metal giants Eluveitie. But as they say: Every ending is also a new beginning; the trio founded Cellar Darling and channeled their already long trained teamspirits into the magic of the new project.
Cemican
Doing some time travelling will take you to a Mexiko, that had not been invaded by Columbus and offered a colorful bouquet of rituals, customs and tribal activities. Some of them have faded like your favorite Wacken shirt but fear no more Cemican are here to stay and to keep the Aztec-traditions alive. With theatric assets, some lyrics in Nahuatl and even the use of traditional instruments like rattles and pipes they will surely hover you into another dimension.
dArtagnan
One for all and all for one! You will surely remember where this quote stems from and probably already sense which band we are talking about: dArtagnan. These German musical musketeers are no stranger to catchy melodies and thus continue to raise not only the Folk Metal bar but also their chart positions. If you are new to the "Tier" check out their collaboration with Candice Night on the revamp of the drinking-song "Song ar christr" on their last album and we are sure you will raise your glass to them as well!
Dark Tranquility
Mikael Stanne: A name that should ring a couple of bells in every metal-head! And while we were lucky enough to present the debut of his new project "The Halo Effect" in 22, we are happy to welcome him back this year with his long-term-band and Swedish Melodic Death spearheads Dark Tranquility. With a new line up and their latest album Moment in their suitcase they are on their way to the Holy Ground.
Der W
Former enfant terrible but also THE polarizing personality of German rock: It certainly wasn't always easy to be THE W. All the more reason to take us on his personal journey that brought him to his solo band project years ago. And it does not get more personal than here. A lot becomes clear, some things are burned in forever and the conclusion remains: Wherever Der W is, Rock resides. And that's the most important thing.
Finntroll
What would be a proper Nordic theme without a couple of mythological creatures? While we strongly rely on you to bring the pink unicorns, we will open the stage for some of the fiercest Finns Metal has to offer: Finntroll! Prepare for a wild gathering from the underworld and don't forget your pointy ears.
Marty Friedman
When you recite Metal's most skilled guitarists-list you will have to name Marty Friedman very quickly. Probably most famous for his 10 years in Megadeth, Marty is an absolut 6-string-icon and it is not surprising that his talent not only is an essential guide to everyone learning the guitar, but also a solid staple in TV-shows dealing with talent and music in his expat-homecountry Japan!
Monsters of Liedermaching
Whether it's about salamander foreskin diets or door fetishists, stories about superheroes or eternal losers, licking lanterns or kissing muses. There are no limits in the monster cosmos. It can be pogged, swayed and wallowed. Sometimes funny, sometimes serious. The incompatibility of delicate ballads and bizarre sing-along evergreens is eliminated and the monster magic can unfold.
Morast
If the name Morast does not ring a bell YET, we will forgive you but urge you to keep an eye out for the German Doom-Sludgers that have their firm roots in other bands, namely the legendary Hammerhead and the underground-icons Serpent Eater. In English Morast means swampy grounds and that is exactly where their brutal punch will take you and drown your intestines during their debut at the WOA.
Mutz & The Blackeyed Banditz
If you are a fan of Wacken and an avid visitor there is no way you have not met Mutz before. As longtime collaborator, friend, inner circle-musician and even stage manager, he is one of the WOA-faces you should remember. In his project with The Blackeyed Banditz he aims a bit away from his metal-roots and makes fans of (Made in Germany)-Americana and Southern Rock happy.
Possessed
Not all heroes wear capes - some wear spikes and founded Death Metal. The story of Possessed and their leadsinger Jeff Becerra is one of getting back in the ring, never being defeated against the odds and most of all delivering pure brain-grinding Metal. Already from their beginning in 1983 the Bay Area band became synonymous with being the first band using the term Death Metal, putting out the first groundbreaking album of the genre. But Possessed's first coming was short lived and came to a halt, when Jeff tragically and accidentally was hurt in a shooting that left him paralyzed. He withdrew from music until the late 90s and more importantly until the reunion of Possessed in 2007 which was crowned with a spectacular gig on our Holy Ground. Wacken has been a steady anchor for the band to return to and we are psyched to welcome them back!
Skindred
If it would not be for Skindred I am pretty sure we would have never thought that mixing Reggae, Funk and Metal can sound so dope! Being veterans of the art of putting together a bloody, twangy cocktail already with the band Dub Step, Skindred have been gracing the stages since the late 90s. Hailing from the lesser as Rock'n'Roll capital known, beautiful Wales, their exceptional status probably had been predestined. That it would last over years and years is surely thanks due the capacities of charismatic and spellbinding front man Benji Webbe.
Sleep Token
Do believe the hype! Even though Sleep Token have been together since over 6 years, the buzz that has been around this band in the last months has been phenomenal. As are the speculations who hides behind those masks and is responsible for the highly complicated, enchanting Post-Metal that again sounds so different and fresh and distinguishes them from their genre colleagues. Legend has it Sleep Token worship the cult of a higher being called Sleep, which is interesting, cause sleeping is definitely the last thing you want to do, while listening to them.
The Answer
Over 300,000 sold records, six studio albums and worldwide tours, among others with bands like AC/DC. It's no wonder that The Answer hold the title of "pioneers of the new wave of Classic Rock". After seven long years, the band returns with a new album. "Sundowners" is the name of their new masterpiece. An album that captures the soul of a band that not only wants to rekindle the spark but burn even brighter than ever before.
The Night Eternal
The Night Eternal impresses on record as well as live on stage with their virtuous, precise but forceful performance across all ¬ve musicians. Fans of In Solitude, Tribulation, The Devil's Blood or Judas Priest will buzz about the exceptional riffs and catchy melodies which conate to a band that honors, but never imitates their 80s paragons.
The Raven Age
It might be a blessing and a curse to be the son of the bandleader and bass player from one of the biggest Metal bands in the world, Iron Maiden. Undisputedly the talents runs in the family though, and who would not use it to form a band! As did George Harris and Dan Wright by 2009 and by 2013, the Raven Age was a fully formed quintet, with Matt Cox joining on bass and backing vocals, Michael Burrough on lead vocals, and Jai Patel on drums. The name of the band is inspired by the mythology surrounding the ravens that reside in the Tower of London. Legend has it that if the ravens ever leave, the tower and the monarchy will fall.
Voivod
Another band that needs no further introduction and can be easily named in one sentence with the likes of Kreator and Venom is Voivod. The Canadian Noise-Metal-Cyberpunk continues to deliver and scratch the boundaries, that might have kept them from becoming as huge as their stage-sharers, but also cement them as indestructible force majeure of the underground.

But that's not all! More bands will follow in the next weeks so stay tuned!

yours
W:O:A team