26 new bands for Wacken Open Air 2019!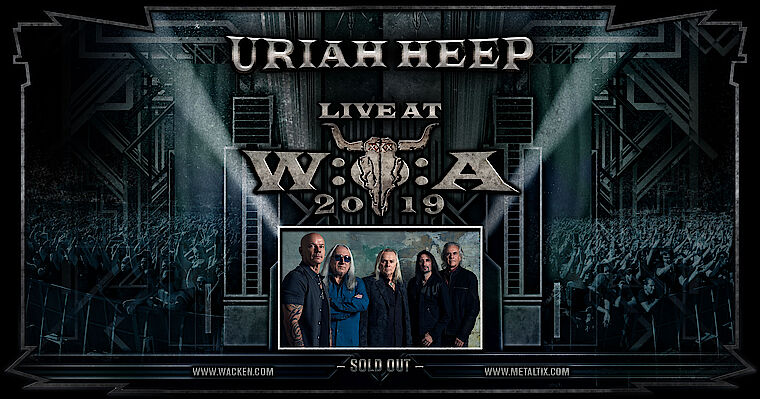 Today we can announce another wave of bands for upcoming Wacken Open Air 2019! A total of 26 bands join the lineup today. At this point we want to pay special attention to three acts that have never been seen in Wacken before:
Uriah Heep
Since 1969 Uriah Heep have been on the road without any notable break and the Hard Rock band has sold more than 40 million records during this time. And yet they have never made it to Wacken. Now this will finally change! Look forward to hits like Easy Livin', Lady in Black or July Morning.
Hellhammer performed by Tom Warrior's Triumph of Death
Tom Warrior dedicates his project Triump of Death to the songs of his legendary band Hellhammer. Hellhammer only existed between 1982 and 1984, but the great influence Black and Death Metal can not to be argued away.
Monster Magnet
In 2018, Monster Magnet released their 10th studio album, called Mindfucker. Obviously, the name would have been a perfect match for all of the band's previous albums too. Since 1989 the US-Americans have been delivering on a high level – and we can't wait for their Wacken debut!
All 26 acts at a glance:
Aborym, Angelus Apatrida, Asrock, Baby Face Nelson, Crazy Lixx, Crobot, Deathstars, Dirty Shirt, Eclipse, Hellhammer performed by Tom Warrior's Triumph of Death, Lucifer Star Machine, Monster Magnet, Nachtblut, Nordjevel, Prong, Savage Messiah, Skew Siskin, The Damned, The Lazys, The New Roses, The Quireboys, The Wild! Uriah Heep, Warkings, Wiegedood, Zuriaake