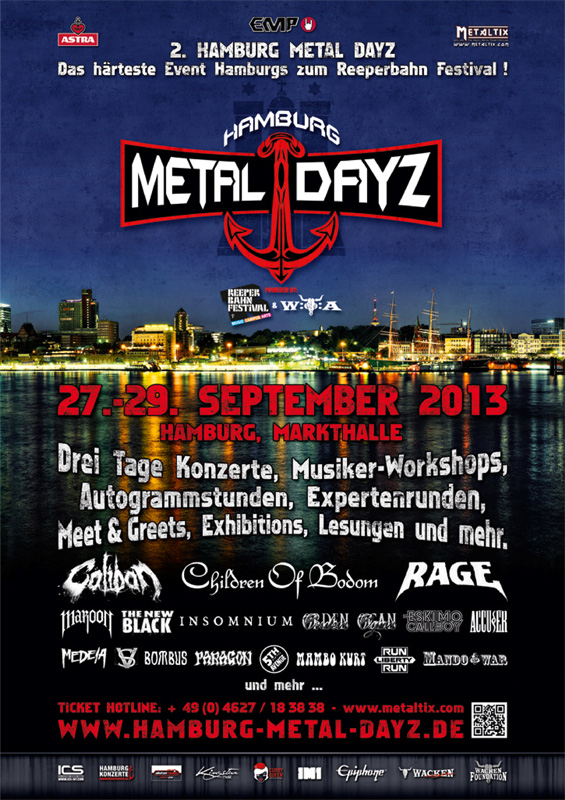 2nd Hamburg Metal Dayz - The schedule is finalized
With more than a dozen bands, expert panels and workshops, the Hamburg Music Dayz offer a wide array of activities for fans, up-and-coming rockers and business professionals.
There will be roundtable discussions about topics like "Where does the money go in the music business?", "The truth about touring" and "The world of merchandise", where insiders will share their knowledge. In addition, fans will be able to ask the promoters of the Wacken Open Air anything they like during a Q&A.
Professionals will show their skills in workshops for musicians, for example shoutcoach Thomas Fischer, who proves that extreme vocals are more than just screaming. Guitar virtuoso Victor Smolski (Rage) will not only let his fingers fly over the fretboard, he will also bring... a race car: He has been active in motorsports for years and invites one lucky fan for test drive through Hamburg, slowly, but very loudly.
This year's exhibition will show the story of the legendary Wacken Open Air in pictures and explanations, all the way from the little party at the edge of the village to the world's biggest metal festival. A presentation by graphic designer Tim Eckhorst will offer an overview of the world of metal album covers, while two authors will from their works: Berni Mayer ("Black Mandel") and Micha-El Goehre ("Jungsmusik"). The most devoted of fans even can get the logo of the Hamburg Metal Dayz or the Wacken Open Air tattooed at the Markthalle by tattoo artist Alf from Classic Tattoo Berlin - for free! The promoters of the legendary festival will announce new bands for next year's edition during a "WOA KickOff" on the main stage. And if you want to become a rockstar yourself, you might want to start with an instrument by Epiphone: Every day a brandnew guitar will be given away during a raffle at the Wacken Foundation booth.
Last but not least Germany's recently reunited Metalcore veterans Maroon, bombast metallers Orden Ogan and Bombus from Sweden have been confirmed. This completes the line-up alongside Children Of Bodom, Rage, Caliban, Eskimo Callboy, Insomnium, The New Black, Medeia, Run Liberty Run, Accu§er and Hamburg's own Paragon and 5th Avenue. Fans can even get up close to the artists during the signing sessions in the Markthalle's foyer.
The complete schedule and further information about the programme and the panels can be found at www.hamburg-metal-dayz.de.
Gathering at the Hamburg Metal Dayz will not only be concert goers and musicians, but also professionals of the Metal business. For those, another point of interest will be the Reeperbahn Festival Campus with conference program, networking events and showcases. Accreditation is needed (see below).
The first Hamburg Metal Dayz in September 2012 were enjoyed by more than 3000 visitors. The second edition once again sees two festivals - both internationally renowned, but each with its own distinctive musical identity - joining forces.
Holger Hübner from W:O:A: "We're looking forward to introducing Heavy Metal to the Reeperbahn Festival for a second time – with great shows for the fans and opportunities for labels, promoter and agents to get together, even beyond the Metal scene."
This makes the Hamburg Metal Dayz equally entertaining and valuable for fans and insiders alike. An updated schedule of bands and activities can be found at www.hamburg-metal-dayz.de.
Day tickets cost 28,50€ including fees and are available via www.metaltix.com" target="_blank">www.metaltix.com, the Metaltix hotline +49 4627-183838 and other ticket outlets. Limited two day tickets for (45€ incl. fees) and three day tickets (67€ incl. fees) can be purchased via Metaltix exclusively.
W:O:A und Reeperbahn Festival present:
Hamburg Metal Dayz
27.-29.9.2013 - Hamburg, Markthalle
powered by EMP
in cooperation with Astra, iM1, Alsterradio, Epiphone, Hamburg Konzerte, Kingstar Music, Curry Queen, Wacken Foundation, Wacken Inside and ICS Festival Service
<iframe width="640" height="360" src="http://www.youtube.com/embed/0fTSTi9Q76M?feature=player_detailpage" frameborder="0" allowfullscreen></iframe>
with: CHILDREN OF BODOM + CALIBAN + RAGE + MAROON + ESKIMO CALLBOY + INSOMNIUM + ORDEN OGAN + THE NEW BLACK + BOMBUS + PARAGON + ACCU§ER + RUN LIBERTY RUN + MEDEIA + 5th AVENUE u.a.
Tickets for all days as well as 2-Day and (exklusively at Metaltix) 3-Day-Tickets are available at www.metaltix.com