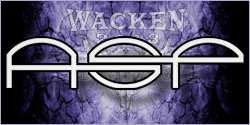 A dozen new bands confirmed for Wacken 2013!
After the big announcement in the morning we will now proceed, as promised with the next top-acts!
Additionally to Rammstein we are happy to confirm a whole dozen new bands for the W:O:A 2013 line-up and we promise: There is a band for every taste!
So now here we go with the bands in alphabetical order:
ASP
A well known and also really successful artist who coined the term "Gothic Novel Rock" will find his way back to Wacken in the next year.
With the last album "Fremd" he entered the German "Media Control Charts" top ten and on the 16th of November ASP will supply you with the next EP "Geisterfahrer"
BOB WAYNE
The next artists is called Bob Wayne. The outlaw country rocker who plays a mix of country, roots, bluegrass, rockabilly, rock, hardcore
Indie, stoner rock and underground metal will give his W:O:A debut in 2013 - be prepared!
CANDLEMASS
The last time the epic doom metal band Candlemass played in Wacken was back in 2009. A few months ago the band released their new album "Psalms of The Dead" which follows the tradition of the former records and in the next year they will be back to smash the Wacken audience with their new material.
DIE KASSIERER
Another legend ( of German punk) - The ex chancellor candidate "Wölfi" and the rest of the band will once again give full throttle.
ESKIMO CALLBOY
"Danceable porno metal with a bit of psychedelic glam rock and a lot of fun" - This is how the 6 musicians would describe their style of music. In 2013 they will play for the first time at Wacken - Welcome!
HAGGARD
For more than 15 years now Haggard have been interweaving hard sounds, medieval and classical music skillfully into a creative mosaic of symphonic and orchestral metal.
After their last performance in 2007 they group will travel once again to Wacken in 2013 - We are looking forward to welcome them back on the holy ground.
HATE SQUAD
It was almost 15 years ago when Hate Squad played the last time in Wacken.
The guys from Hannover, who had a lot of success with their hardcore / thrash metal cult records like "IQ Zero" or "Psycho" back in the nineties, will now return to Wacken!
IHSAHN
Most of you know him as mastermind behind Emperor but since a few years he is also doing a very successful solo project - We speak about IHSAHN.
After his first solo appearance at Wacken Open Air 2009 the musician from Norway will once again show Wacken the meaning of Avantgard Black Metal.
LEPROUS
... will play twice at next Wacken Open Air. First as backing band of Black Metal Mastermind IHSAHN and the second time with their own Progressive Metal set. A really good start for a Wacken debut!
SCOTT IAN - SPECIAL SPOKEN WORD PERFORMANCE
Also Scott Ian will appear twice at Wacken. As already announced he will play with his cult band Anthrax. His second appearance will be a special spoken word performance. Prepare yourself for lyrical art and a lot fun!
SOILWORK
This band meanwhile counts to the spearhead of the Swedish melodic death metal scene. A lot has happened since their last Wacken appearance back in 2008 and the band gained a lot of fans and fame since then and even Rob Halford names them as one of the MUST SEE Acts of the new millennium.
We are looking forward to welcome them back on the holy ground!
SONATA ARCTICA
This famous finish power / progressive metal band will also return to Wacken. The last time they played at Wacken was in 2008 and this year they have released their newest album "Stones Grow Her Name" which seamlessly ties on the quality of the last record which was awarded with gold in Finland. Power Metal at its best!
<script type="text/javascript" src="http://www.wackentube.com/js/embed.js.php?id=3498"></script><noscript><object type="application/x-shockwave-flash" data="http://www.wackentube.com/vimp.swf?playlistmode=media&amp;mediaid=3498&amp;webtv=false&amp;hosturl=http%3A%2F%2Fwww.wackentube.com%2Fflashcomm.php" id="flashcontent_505cbecf416b7" classid="clsid:d27cdb6e-ae6d-11cf-96b8-444553540000" name="c6a80378-3eb2-47e7-8415-ba1f7cff037e" codebase="http://fpdownload.macromedia.com/pub/shockwave/cabs/flash/swflash.cab#version=9,0,0,0" width="480" height="360" align="middle"><param name="movie" value="http://www.wackentube.com/vimp.swf?playlistmode=media&amp;mediaid=3498&amp;webtv=false&amp;hosturl=http%3A%2F%2Fwww.wackentube.com%2Fflashcomm.php" /><param name="width" value="480" /><param name="height" value="360" /><param name="align" value="middle" /><param name="quality" value="high" /><param name="allowscriptaccess" value="always" /></object></noscript>
We hope that we have pleased you with this amazing line-up addition for the next year and wish all of you a pleasant weekend!
Tickets for the Wacken Open Air are as always available at www.metaltix.com
Ticket-Hotline: +49 (0) 4627 - 18 38 38
Further news will follow soon!
yours
W:O:A team