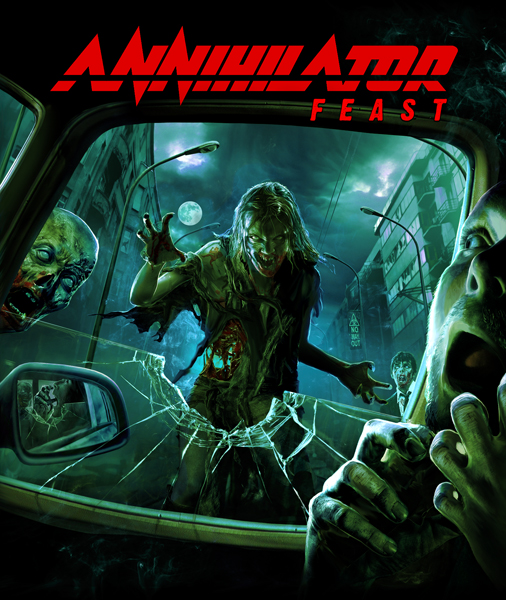 Annihilator - Want some more "Feast"? Album to be re-released with live bonus DVD!
Looks like you zombies can't get enough of the "Feast": Annihilator's latest masterpiece is let loose again as Limited Edition No. 2 - with re-recorded Annihilator classics on CD and the full Wacken Festival show on DVD, all in a special Ecolbook version with a new 3D cover!
This edition contains:
- The new album "Feast" in a CD-sized book with extra pages in the booklet.
- The 15-song bonus CD "Re-Kill" with newly recorded Annihilator classics.
- Plus a never-seen-before live DVD filmed at last year's Wacken Open Air, when the band opened the festival relentlessly regardless of the blistering heat!
- Not to mention a brand new 3D cover taking over where the original "Feast" cover left us. Which means: More Zombies, and they are coming closer!
That's 35 songs worth of finest Canadian Thrash Metal. Pretty cool package, eh?
The "Feast" Ecolbook version will be available in EU/UK/US on March 11th, 2014.
Annihilator's 14th studio album "Feast" was released in August 2013 to critical acclaim and reached the charts in several countries, among them Germany (#20), Finland (#17), Switzerland (#36) and France (#76).
Peace, love and Thrash Metal. And Zombies!
Join the "Feast"!
TRACKLISTING "FEAST":
1. Deadlock
2. No Way Out
3. Smear Campaign
4. No Surrender
5. Wrapped
6. Perfect Angel Eyes
7. Demon Code
8. Fight The World
9. One Falls, Two Rise
BONUS DISC "RE-KILL (Best-of rerecorded 2012)"
1. Fun Palace
2. Alison Hell
3. King Of The Kill
4. Never, Neverland
5. Set The World On Fire
6. Welcome To Your Death W.T.Y.D.
7. No Zone
8. Bloodbath
9. 21
10. Stonewall
11. Ultra Motion
12. Time Bomb
13. Refresh The Demon
14. Word Salad
15. Brain Dance
BONUS DVD FILMED LIVE AT WACKEN 2013:
1. Smear Campaign
2. King Of The Kill
3. No Way Out
4. Clown Parade
5. Set The World On Fire
6. W.T.Y.D.
7. Fun Palace
8. I Am In Command
9. No Zone
10. Fiasco
11. Alison Hell