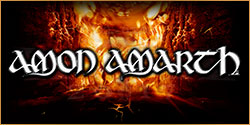 Announcement of the first bands for 2017!
A Wacken Open Air full of highlights slowly comes to an end and so it is time to look forward to the W:O:A 2017.
The first bands are already safe and can hereby be announced! All details regarding the ticket sale will be announced tomorrow!
Amon Amarth
The first stunner we can present you for 2017 is no less than the Swedish steamroller Amon Amarth!
The band from Tumba near Stockholm can already look back on an outstanding career, with 10 studio albums, countless tours and a row of memorable gigs at W:O:A.
Avantasia
When it comes to epic Metal-shows, you´re always right with Tobias Sammet. In particular, this goes for his outstanding all-star-project Avantasia, which will gather again in 2017 for a monumental Wacken show. Which star-guests will be there this time? Let us be surprised!
Kreator
The German Thrash-institution number 1 is back! Kreator are always an impressive live act and have lastly haunted us in 2014. Now it's time to raise the Flag of Hate again.
Mayhem performing De Mysteriis Dom Sathanas
Who are the real kings of darkness? This question has yet not been cleared, but the Black-Metal-veterans Mayhem are definitely right up at the forefront! At the W:O:A 2017 they will perform their legendary album De Mysteriis Dom Sathanas – a must for every blackened soul!
Saltatio Mortis
Inexhaustible jongleurs and splendid entertainers – Saltatio Mortis can easily hold up high the flag of medieval-rock, so energetic are their shows and so great are their albums.
Paradise Lost
The Englishmen Paradise Lost have only been once our guest in Wacken, so it is time for round two. Since their formation in 1988 the sound has somehow changed from Doom and Death into the Gothic-section - but still they sound great!
Heaven Shall Burn
The wrecking ball from Thuringia has just announced a new album and will present it to us next year on the Holy Ground. We expect another great steam hammer and a stunning show with stiffness-guarantee.
Lacuna Coil
Since 2009 Lacuna Coil have not been our guest again, and now their return is next up on the agenda!
Since then, there has happened a lot, various albums have been released and we are happy to see them again.
Powerwolf
Powerwolf are real guarantors for great atmosphere! With their albums they take the charts by storm in the highest positions and their concerts are always well-attended. Because of that the wolves will again celebrate the Metal Mass with us in 2017.
Candlesmass
The Swedes Candlemass belong to one of the most influential bands in the Doom-Metal-genre and have done their part for the concrete definition of the genre.
Sonata Arctica
The Finnish Power-Metal-heroes Sonata Arctica have not only released classics like "Ecliptica" or "Silence", in 2016 they are still one of the most satisfying Finnish bands. A new album has been announced and of course they will present it live to you at W:O:A.
Hämatom
Originally planned as a show in the infield, 2016 Hämatom had to move their show into the Bullhead City tent – which has been taken by storm by the fans. Due to the fact that not everyone has been able to watch the show, the band will return next year and take another go.
And here is the brand new trailer!