Important
This article is VERY old (older than 2 years)!
Badly Raffle - The winners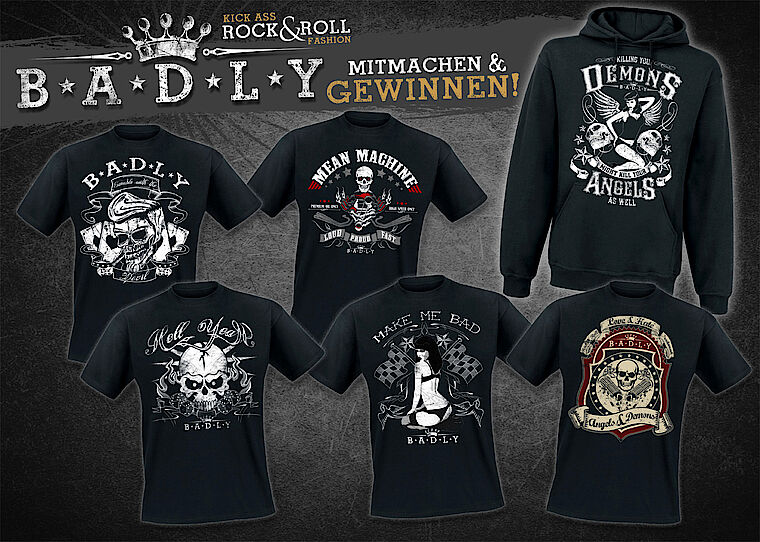 Yesterday the deadline for our raffle in co-operation with Badly Wear ended. Thanks to the great response and the amazing amount of participants!
Here is the list of winners:
Baerbel R. from Suessen
Katharina S. from Heinsberg
Lena K. from Soest
Thorben B. from Eutin
Tanja F. from Schluechtern
Dominik F. from Freiburg
Maximilian M. from Wörth am Rhein
Stefanie G. from Bochum
Artur R. from Grafenau
Markus T. from Walhausen
Tobias K. from Bohmte
Olaf K. from Schwerin
Peter M. from Zweibrücken
Remo T. from Emmenbrücke
Ralf M. from Stipshausen
Alexander S. from Gießen
Cedric B. from St. Martin
Thomas F. from Rheinbach
Matthias K. from Wewelsfleth
Martin W. from Salgen
Roman U. from Ebstorf
Stefanie G. from Einhausen
Andreas K. from Neu-Lankau
Sven B. from Stade
Tim S. from Köln
We wish all winners a lot of fun with their prices!
About BADLY WEAR:
Kick Ass Rock `N`Roll Fashion!
BADLY - these are stylish Rock `N`Roll themes captured on clothes. Wear your "Attitude" on your body and show it to the world!
High quality clothes and prints are also a quality characteristic as well as modern suitable patterns.
Vintage Style that keeps in mind - wear BADLY and stand out of the grey mass!
Long live Rock `N`Roll!
If you have become curious then visit www.badly-wear.com to check out the whole range of BADLY products.
The Shirts are also available at EMP under the following LINK