Important
This article is VERY old (older than 2 years)!
BE A PART OF THE W:O:A HISTORY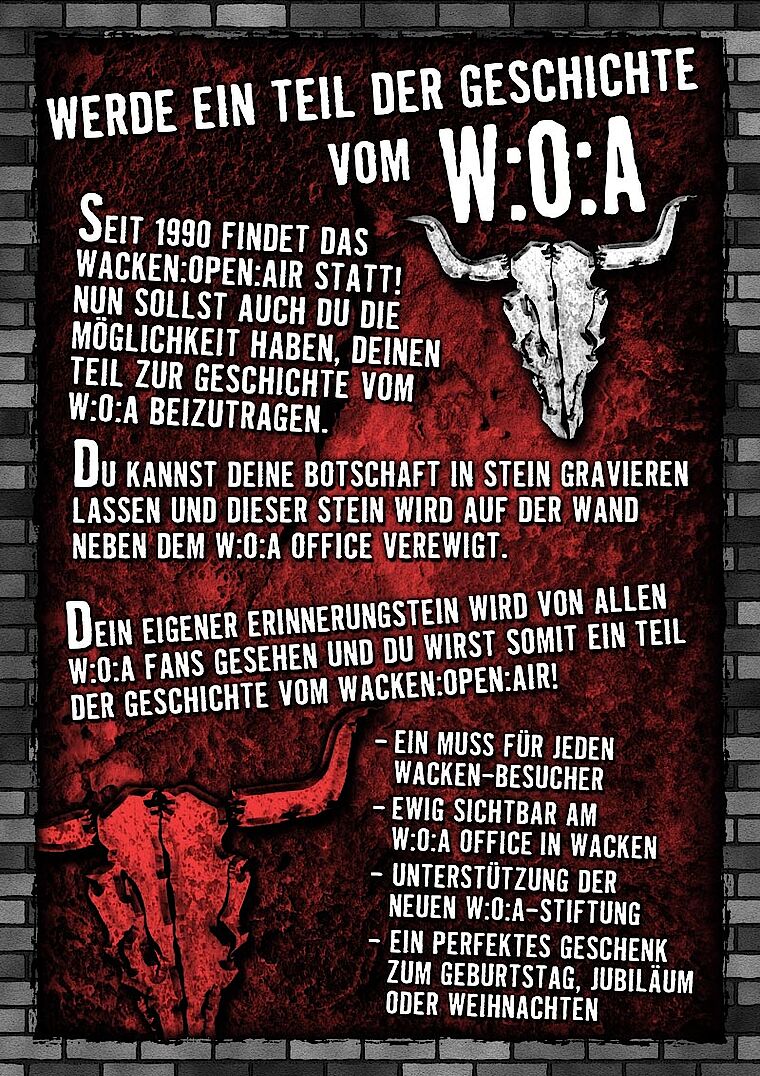 Wacken Open Air took place for the first time in 1990!
Now you have the possibility to "bring your stone" to the W:O:A historical monument
You can have your message engraved in a stone which will be part of the wall at the W:O:A office
Your stone will be seen by all W:O:A fans and this will make you a part of the Wacken:Open:Air history
a gotta-be for every festival visitor.
a lasting memory for the future at the W:O:A office in Wacken
benefit for the new W:O:A foundation
a perfect present for birthday, anniversary or X-mas
I'M STONED
With your own memory stone you will be a part of the Wacken:Open:Air history!
The proceeds from the stones will be donated to the new W:O:A Foundation, which works for charitable and beneficial purposes and institutions.
Your message can be up to 16 characters (blanks and symbols included!). The text can be engraved in black or gold.
Using gold characters will make your stone noticed! Furthermore you get your own personal copy of your stone.
You will also receive an authentic certificate as evidence that you are a part of the W:O:A history!
… Be stoned!
information, handling and prices will be available in September 2006 at
www.wacken.com and through email foundation@wacken.com