Important
This article is VERY old (older than 2 years)!
Big Airbourne raffle to celebrate the release of "Black Dog Barking"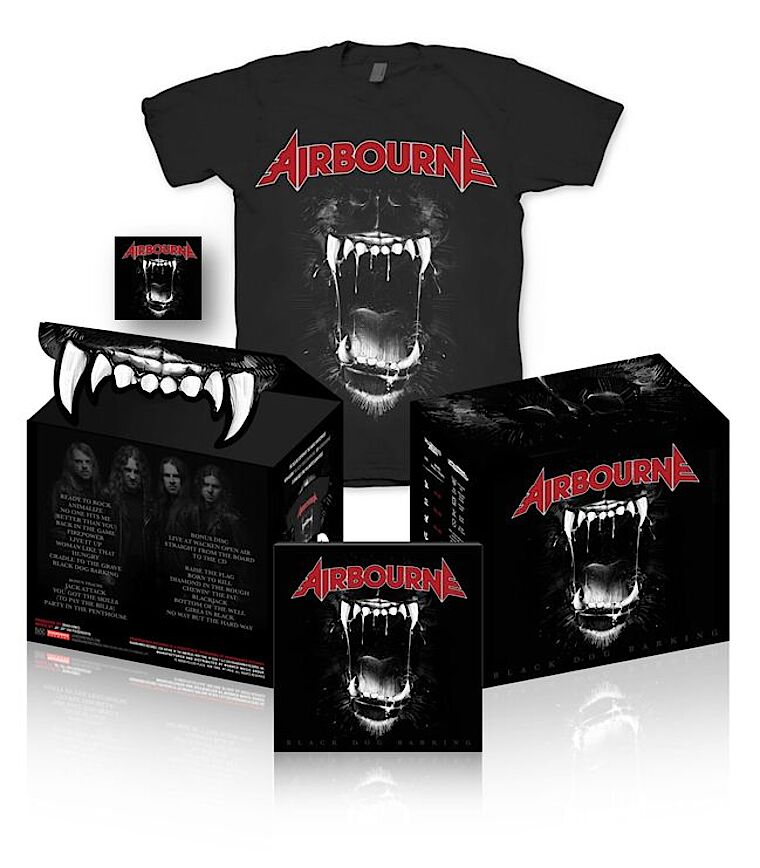 Since the release of their debut "Runnin´ Wild" in 2007, the australian band Airbourne became more and more unstoppable.
With their underdog anthems they impressed not only legions of fans but also the press and music idols like Lemmy Kilmister.
On May 17th the long anticipated third album Black Dog Barking will be released.
Together with Roadrunner Records we are now raffling a big Airbourne fan package!
The package includes:
1x 2CD Black Dog Barking
1x T-Shirt,
1x Magnet
How to participate?
Just send us an e-mail with subject "Black Dog Barking" including your complete address and name to verlosung@wacken.com.
Entry deadline is the 28th of May 2013 - There is no right of appeal!
The new album will be released on May 17th on AMAZON, iTunes and everywhere else you can afford music.
The double CD includes 3 bonus tracks and eight songs "Live At Wacken 2011"
Here you can read the track listing:
Disk: 1
1. Ready To Rock
2. Animalize
3. No One Fits Me (Better Than You)
4. Back In The Game
5. Firepower
6. Live It Up
7. Woman Like That
8. Hungry
9. Cradle To The Grave
10. Black Dog Barking
11. Jack Attack
12. You Got The Skills (To Pay The Bills)
13. Party In The Penthouse
Disk: 2
1. Raise The Flag (Live At Wacken 2011)
2. Born To Kill (Live At Wacken 2011)
3. Diamond In The Rough (Live At Wacken 2011)
4. Chewin' The Fat (Live At Wacken 2011)
5. Blackjack (Live At Wacken 2011)
6. Bottom Of The Well (Live At Wacken 2011)
7. Girls In Black (Live At Wacken 2011)
8. No Way But The Hard Way (Live At Wacken 2011)
Airbourne Web:
www.facebook.com/airbournerock