Cambodian band Doch Chkae granted visa for Wacken Open Air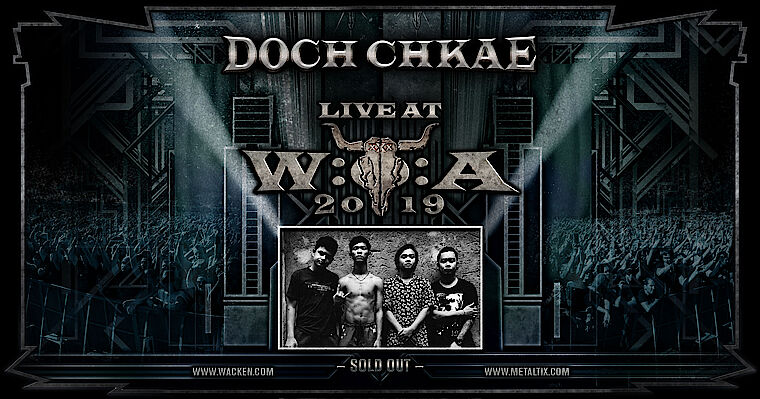 More than 10000 people signed a petition last year for the authorities to grant Doch Chkae the necessary visa to allow the young Cambodian band to perform at the Wacken Open Air 2018. Despite intense public campaigning and strong political efforts their application was unfortunately turned down in the end.
Yet the band, Swiss social worker Timon Seibel, and we at Wacken Open Air endured and the persistance was finally rewarded. Last week, Doch Chkae were informed that their visa application has been approved and the band will be allowed to enter Germany to perform at the Wacken Open Air 2019!
Doch Chkae translates as "dog life" – in which many of the inhabitants of the big slums in Cambodia are trapped. The three band members grew up in what was once the country's biggest waste dump. According to UNICEF, more than 10,000 children live on and off the streets in Cambodia's capital Phnom Penh alone. The kids catch dogs for restaurants, prostitute themselves, trade in drugs, look for recyclables in garbage or try to survive in other ways.
Theara, Vichey, Pic, and Hing were lucky - three of the homeless kids were not only lodged in an orphanage run by Moms Against Poverty, but their social worker Timon also happened to find the right valve for the angry teenagers: Heavy Metal. After visiting a concert of the deathcore act Sliten6ix, the original trio quickly formed their own band. Doch Chkae play angry death metal – and are probably the first to use their native language Khmer.
Doch Chkae have become a role model that has long been encouraging other children and young people in Cambodia to use music as a means to gain some control over their lives. The band plays concerts for their community, has founded its own label, and even appeared on television.
Before their show at the Wacken Open Air, Doch Chkae will be joined by Lebanese girl band Slave to Sirens, Trainwreck from Bangladesh, and Valley of Chrome from the Philippines to play a warm-up gig at Hamburg's Kaiserkeller under the banner of "United Metal Nations" on July 27th.