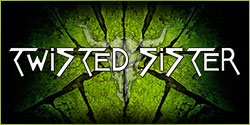 Christmas Eve - the last bands of the Calendar
Dear Metalheads,
today is Christmas Eve and this means our X-Mas calendar is over now. More than 100 bands are already announced for the next Wacken Open Air - and here are the latest additions!
Twisted Sister
Twisted Sister will celebrate their farewell tour in 2016 and they will also visit Germany! The legendary Glam Metal band is without any doubt one of the best-known and most popular bands you can present at a Metal festival. Since their foundation in 1973, they have released countless songs that will last forever.
Their show at Wacken Open Air 2003 was later released as a DVD with the name "The Reunion" and now they will play their last show in Germany for ever at Wacken - the circle is complete.
Motörhead
Lemmy turns 70 years today and we can announce them for Wacken again! Lemmy, Phil and Mikkey Dee will rock the infield once more with their immortal songs. The band is active since 40 years and they still show young bands how to rock!
Whitesnake
The legendary Whitesnake are back! 10 years after their first and only show at Wacken, it is time for another round. The important Hard Rock band became immortal with hits like Here I Go Again and they haven't lost their fire. David Coverdale and his band are active since 1978 and this year they have released a new album, called The Purple Album. It is dedicated to Coverdales time as the singer of Deep Purple and contains old hits in new versions.
And here are the x-mas winners from the 23rd of december 2015:
Charlotte K - Mainz
Sibylle S - Leonberg
Danny B - Freiburg
Kerstin T - Rieden
Sven S - Brunsbüttel
All winners will be informed by mail!
Tomorrow we will announce the final xmas winners!
From today on you can also participate into the raffle of the big main solution. You can find details about the procedure in the Calender (click the help button). If you find out the solution you can type it into the form in the prizes section of the calendar (scroll down).