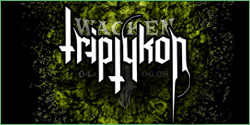 Cradle Of Filth have to cancel W:O:A appearance – Triptykon will replace them
Bad news today. Due to injuries sustained by Dani Filth at the Selestat festival in France, Cradle Of Filth sadly announce their cancellation of this year´s W:O:A appearance. The band apologise and want to let all their fans know, who were looking forward to their show, that they tried all they can to make this happen though and that they are very disappointed not being able to make it. The only blessing in disguise is that Dani and his band will try to make up for it next year and therefore we are happy to announce that CRADLE OF FILTH are the first confirmed band for W:O:A 2012.
Get well soon Dani from all at W:O:A
As there is an open slot for the Black Stage on Friday, we did all to find a great replacement. And we did! No one less than legendary Tom Gabriel Warrior's (mastermind of Celtic Frost and Hellhammer) new and highly acclaimed group Triptykon will replace Cradle Of Filth on Friday 11:15pm at the Black Stage. You can look forward to a show full of dark, doom, heavy and atmospheric moments. Welcome to the W:O:A 2011.