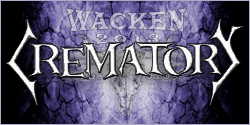 Crematory, Dezperadoz & Mandowar behind door no. 18
Also today we can announce a new band threesome which will reinforce the W:O:A 2013 line-up.
There is nothing much more to say about Crematory which isn´t already known to most metalheads. They are one of Germanie´s most famous gothic metal bands and are also known as one of the spearhead bands of the whole movement around the globe. 20 years of stage experience and almost as much CD & DVD outputs are proof of it.
After some years of abstinence Crematory will return in 2013 to spread their dark mood again!
More about the band at Billing/Bands
Dezperadoz - sounds like western? It is! With their unique crossover mix of heavy rock and western sounds the band gained a lot of fame since their founding in 2000.
The lyrics regarding stories about Wyat Earp and other western legends. Until now the band did a lot of successful tours and shows with bands like Volbeat, Thin Lizzy, Rage or also Gotthart. After their last appearance at Wacken 2006 they will return in 2013 to rock Wacken again
More about the band at Billing/Bands
Mandowar - It´s no coincidence that the name sounds a bit like the "loudest band in the world".
Three cowboys celebrate rock and metal classics by the use of mandolin, guitar and ukulele-bass whereby the mandolin has a very important act in their show.
The band describes their style as country-folk-metal and in 2013 they will play at Wacken for the first time.
More about the band at Billing/Bands
And here are the x-mas winners from the 17th of december 2012:
Heiko D - Nortorf
Andreas B - Berlin
Petra G - Hilden
Mikael E - Aalborg (Denmark)
Chris B - East Tytherton (United kingdom)
All winners were already informed by mail!
Tomorrow we will announce the next band and xmas winners!