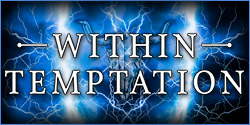 Day 10 – Symphonic, Glam, Dark Rock and Irish Folk
We are close to the half time of our calendar. Check out the new winners of our big raffle and the new bands for 2015!
Within Temptation
One Symphonic Metal band from the Netherlands is good, but two are better - and because of this, we like to announce Within Temptation for 2015! Until now, the band has played our festival only in 2005 once. Since this time, three new albums were released and the lineup of the band changed a little too. We're looking forward to their return!
The Quireboys
That Glam Rock from the eighties is still popular in 2014 is also a merit of The Quireboys.
They started their career in the legendary Marquee Club in London and under the management of Sharon Osbourne they signed their first contract. The group split up during the big grunge wave but they returned again and made their Wacken stage debut in 2004. And now it is time for round number two!
Lord Of The Lost
Although Lord of the Lost are still some kind of newcomer, the individual musicians can be called "old hands" of the metal scene. The Dark Rocker played already 2010 at the W:O:A, where they presented their first album. In the following years they produced three more albums and for this reason Lord of the Lost has an extensive assortment of songs. We looking forward to seeing them again!
Baltic Sea Child
Another band for our side program is Baltic Sea Child from Northern Germany. The Irish Folk band will release a first album in 2015 and will present it at the W:O:A too.
And here are the x-mas winners from the 9th of december 2014:
Stefan S - Fürth
Ronny R - Lutherstadt Eisleben
Jan-hendrik B - Osnabrück
Beringuier J - Balma (France)
Espen N - Ålesund (Norway)
All winners were already informed by mail!
Tomorrow we will announce the next band and xmas winners!
If you have not participated yet than take your chance now and visit www.metaltix.com.
More bands and amzing prizes are waiting behind every door!