Donate your blood at UKE Hamburg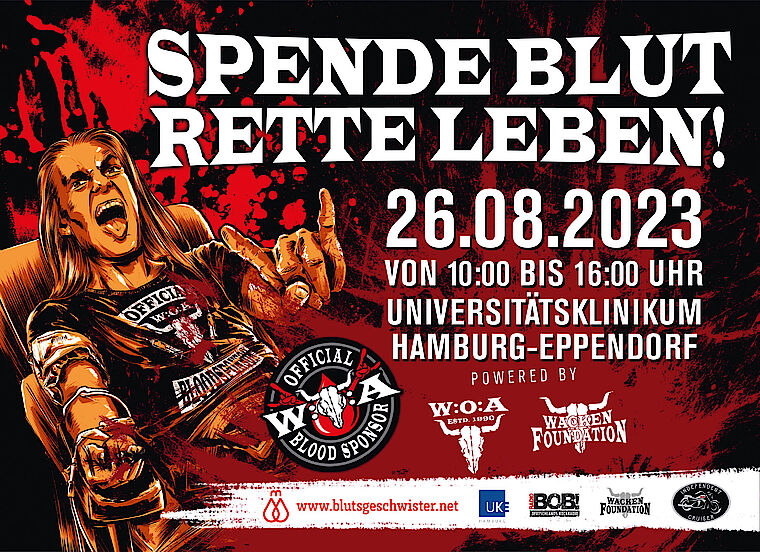 In recent years, many Metalheads have already donated blood, saved lives and shown great commitment. But patients are continuously dependent on blood donations: at the UKE, more than 3,000 donations are needed every month. Therefore, the Wacken Open Air in cooperation with the University Hospital Hamburg-Eppendorf (UKE), the Independent Cruisers and the Wacken Foundation invites to the already 6th Bikers Blood for Help Day!
On Saturday, the 26.08.2023 from 10.00 - 16.00 you have the opportunity to donate! As a small thank you, there is a limited T-shirt for donators! (Attention, only while stocks last). Besides tasty sausages from the grill and cool drinks, there will be live music from VanSteef and a raffle from the Wacken Foundation with cool prizes. All proceeds benefit the Wacken Foundation, which uses them to support young music makers. First saving lives, preserving music heritage and then listening to the sounds of live music in a nice atmosphere - sounds like a successful day! Festival founder Holger Hübner will also be there.

More information about the campaign, blood donations in general and the W:O:A blood donation passport can be found at www.blutsgeschwister.net and on the W:O:A blood donation info page!
Please follow the link and have a thorough look at the questionnaire and the information about blood donation in advance. Read the documents carefully - this will save you a lot of time on site; you don't need to print them out or bring them with you!
Please also remember to bring your ID card on the day of the blood donation and to have drunk at least 1 liter and eaten well.
We would like to ask you to book an appointment online in order to spread the rush evenly throughout the day.