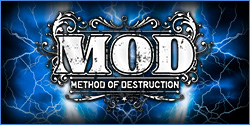 Door 23 – two more bands for 2015!
The second last door of our calendar can be opened – and here are the new band announcements!
M.O.D.
Interested in some pogo while listening to finest crossover? Then you definitely should watch out for M:O:D (Method of Destruction). The US boys who love to mix Hardrock with Trash Metal will be in Wacken for the first time.The band didn´t played live for a few years but at the moment they are working on new stuff and planning to tour again!
Zodiac
Since their formation in 2010, Zodiac is getting more and more famous in the German Hard Rock scene. The four guys from Münster, Germany published three studio albums so far. We are looking forward to their first show at our festival and are excited to welcome them in 2015!
And here are the x-mas winners from the 22nd of december 2014:
Björn W - Bad Kreuznach
Markus S - Lam
Andreas G - Hamburg
Bart R - Erpe (Belgium)
Jacoline D - Gorinchem (The Netherlands)
All winners were already informed by mail!
Tomorrow we will announce the next band and xmas winners!