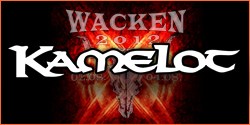 Door No 21 - Kamelot & Sylosis
Here is the next double announcement - Kamelot & Sylosis
KAMELOT - will play at Wacken 2012! In their 20 years long history the US melodic power metal band recorded 11 Albums (including Live records), 1 DVD and several music videos. Today they are one of the most famous bands in the scene. We a re looking forward to see this guys back at Wacken again in 2012!
More info under Billing/Bands
SYLOSIS - After the critical content of Sylosis debut "Conclusion of an Age", their 2nd record will be more personal. Thrash Metal mixed up with Melodic Death Metal will blast your ears in the next year! Everyone who wants to see and hear the British and their music live get his chance at Wacken Open Air 2012.
More info under Billing/Bands
And here are the x-mas winners from the 20th of december 2011:
Florian D - Geisenfeld
Mario G - Waldbröl
Filip F - Sollentuna (Sweden)
Lisanne V - Geertruidenberg (The netherlands)
Fred A - Brussels (Belgium)
All winners were already informed by mail!
Tomorrow we will announce the next band and xmas winners!