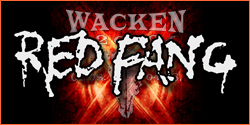 Currently Red Fang is touring as Mastodon´s support-act in the USA and bring their debut "Murder the Mointains" to the big bulk minds. Their music sounds like a cool mixture of Stoner Rock, Punk and Doom Metal. Sounds good?! You can be excited about Red Fangs show at Wacken 2012.
More about Red Fang under Billing/Bands
And here are the x-mas winners from the 4th of december 2011:
Franziska H - Kiel
Sven T - Alsfeld hessen
Sebastian O - Aldenhoven
Chauvin A - Bois d'amont (France)
Elise P - Amiens (France)
All winners were already informed by mail!
Tomorrow we will announce the next band and xmas winners!