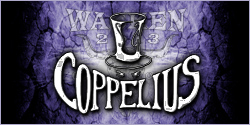 Door number eight brings Coppelius and Callejon to Wacken
Today we have another double pack for you! The German band Coppelius was founded in the early days of the 19th century [sic!] and will perform in Wacken for the first time. By contrast, the German metalcore institution Callejon is already Wacken proved.
In the reality, Coppelius was founded in 1997, but according to their biography, the band already played concerts in 1803. The band plays metal with instruments like a contrabass, cello and clarinet and acts and dresses like people from the second last century. Of-course, their lyrics match this time too. And if you want to listen to more songs from the band, you shouldn't shout "we want more". You should rather try to give them a loud "Da Capo!"
More about Coppelius at Billing/Bands
Callejon is one of Germany's most important metalcore bands by now, and we go them to rock the Wacken Open Air 2013. While other metalcore bands from Germany use to sing in English, Callejon stays at songs in German and the capabilities of this language. Also well known is the band for their varied work with musicians like Mille Petrozza from Kreator or the German rap crew K.I.Z.
More about Callejon at Billing/Bands.
And here are the x-mas winners from the 7th of december 2012:
Michael H - Erfurt
Isabell K - Sindelfingen
Elisa K - Hamburg
Emil n J - København v (Denmark)
Lena M - As almelo (Netherlands)
All winners were already informed by mail!
Tomorrow we will announce the next band and xmas winners!