Important
This article is VERY old (older than 2 years)!
EMPEROR playing at the INFERNO Festival in Norway!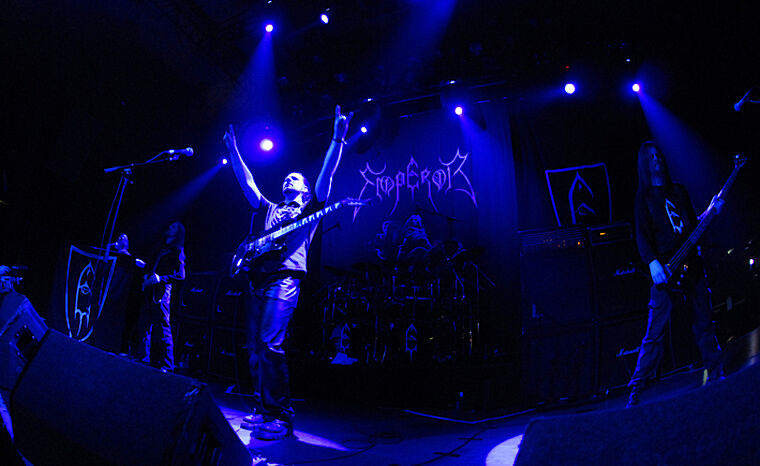 EMPEROR PLAYED THE INFERNO FESTIVAL FRIDAY 14TH OF APRIL 2006, IN OSLO, NORWAY.
AT 01.00, EMPEROR DETONATED ON STAGE IN FRONT OF A SOLD OUT ROCKEFELLER, WITH FANS FROM SOUTH AMERICA, AUSTRALIA, USA, JAPAN AND FROM ALL OVER EUROPE PRESENT. THE SHOW WAS A MASSIVE SUCCESS, AND THE FANS WERE THRILLED BEYOND IMAGINATION. THE BAND WAS ALSO VERY HAPPY WITH THE PERFORMANCE, AND CAN'T WAIT TO RE-ENTER THE NIGHTSIDE IN WACKEN!
THE BAND PLAYED THE FOLLOWING SONGS AT INFERNO:
Into the Infinity of Thoughts
The Burning shadows of Silence
Cosmic Keys...
Thus Spake the Nightspirit
An Elegy of Icaros
Curse you all Men!
Wrath of the Tyrant
With Strength I Burn
Towards the Pantheon
Majesty of the Nightsky
Loss and Curse of Reverence
In the Wordless Chamber
Inno a Satana
Opus a Satana part 1
I am the Black Wizards
Ya Enterancemperium
Opus a Satana part 2(outro)