Important
This article is VERY old (older than 2 years)!
Firewind – On tour in September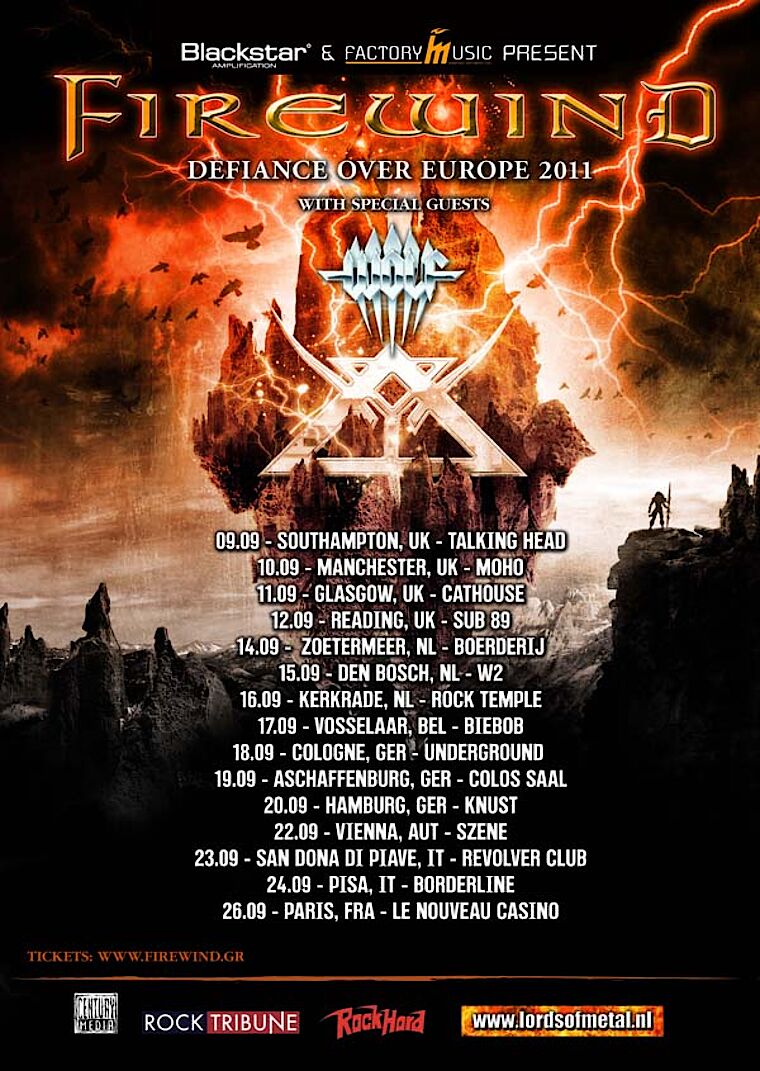 From the 9th to the 26th of September the power metal heroes FIREWIND from Greece will be on their European tour.
The band of founder and guitarist Gus G., who also plays for Ozzy Osbourne, will be supported by their colleagues from WOLF.
Gus G., who himself is a young musician, supports the funding of young talents. He supported the Wacken Foundation with the auction of a signed amp and handed over a signed guitar during the Wacken Open Air 2011 which will be also auctioned off for a good cause.
More about this will be announced soon at the W:O:A and Wacken-Foundation homepages.
The tour will start on the 9th of September in great Britain
Tourdates:
FIREWIND + WOLF - "Defiance Over Europe" Tour 2011
Presented by: Blackstar Amplification, Rock Hard (Germany), Rock Tribune (Benelux) and Lords Of Metal (Benelux)
FR 09.09. Southampton, UK - Talking Head
SA 10.09. Manchester, UK - Moho
SU 11.09. Glasgow, Scotland - Cathouse
MO 12.09. Reading, UK - Sub 89
WE 14.09. Zoetermeer, NL - Boerderij
TH 15.09. Den Bosch, NL - W2
FR 16.09. Kerkrade, NL - Rock Temple
SA 17.09. Vosselaar, BEL - Biebob
SU 18.09. Cologne, GER - Underground
MO 19.09. Aschaffenburg, GER - Colos Saal
TU 20.09. Hamburg, GER - Knust
TH 22.09. Vienna, AUT - Szene
FR 23.09. San Dona Di Piave, IT - Revolver Club
SA 24.09. Pisa, IT - Borderline
MO 26.09. Paris, FRA - Le Nouveau Casino
All further info:
http://www.facebook.com/firewindofficial?ref=ts
http://twitter.com/#!/firewindmusic