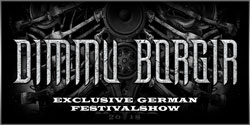 Five new bands - W:O:A 2018 Kick-Off
Wacken Open Air 2018 is already casting huge shadows and today we can announce the next fantastic acts for next year. The bands speak for themselves, so we do not want to lose many words in advance.
Judas Priest
The legend returns! Rob Halford, Glenn Tipton, Richie Faulkner, Ian Hill and Scott Travis have recorded a new album and they will return to Wacken with the new material. 18 albums of Heavy Metal history and innumerable, immortal hits, speak a clear language about the creative power of the band.
But also the concerts of the British are always a blast! The last W:O:A show of the metal pioneers certainly belongs to the highlights of the Wacken history and not without reason the concert was released by the band as a live album. Let's do this again!
Dimmu Borgir - Exclusive German festival show
The shooting stars of Black and Dark Metal are back! Dimmu Borgir have announced a new album for this year, the first after almost 7 years without new music. All those who have already heard of it, speak of a masterpiece, all those who do not know it yet, burn for a taste.
The main stage at Wacken will burn too, when the Norwegians finally return. We can hardly wait for it! By the way, Dimmu Borgir will only play at one German festival in 2018 - at Wacken!
Vince Neil - Best-Of Mötley Crüe Show
With Mötley Crüe, Vince Neil has rocked the world's most important stages for decades. Now the Crüe has been history since 2015, but the story of Vince Neil continues! He will perform an extensive best-of the biggest Mötley Crüe songs on stage at Wacken. Rejoice on immortal hits like Dr. Feelgood, Kickstart My Heart or Wildside and the voice of Mötley Crüe!
Children of Bodom - Exclusive German festival show
Finland sends a strong delegation to Wacken! Children of Bodom are joining their countrymen of Nightwish and Amorphis to smash the holy land once again. The Melodic Death Metal heroes have already been in Wacken for eight times.
Now they will return to Wacken - and in 2018 they will play no other German festival!
Amaranthe
To date, amaranth from Sweden have rocked Wacken only once. Now it's time for the second round! The band, with two singers and a singer, combines catchy melodies from pop and hard metal riffs. There have already been a few bands trying to do this, but Amaranthe definitely belongs to the Champions League in this field.
Get your tickets now at www.metaltix.com!
W:O:A 2018 – 02.08. – 04.08.
With: Judas Priest, Nightwish, Running Wild, Dimmu Borgir, In Extremo, Arch Enemy, Vince Neil, Children of Bodom, Dirkschneider, Doro, Sepultura, Amorphis, Epica, Amaranthe, Knorkator, Belphegor, Watain, Firewind, Deserted Fear, Bannkreis – and many more acts!