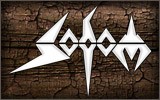 Full Metal Cruise II - Booking starts on Feb 5th
Just a couple of days until ocean loving Metalheads can join the Cruise: The booking for the Full Metal Cruise II starts on Feb 5th! The journey takes place from 11 to 16 April 2015, setting sail for the sun and calling at Palma de Mallorca, Barcelona and Ibiza before returning to Palma.
Tickets will be available starting Wednesday, February 5th, 2014 at 10am via www.full-metal-cruise.com and the hotline +49 (0) 40 - 64413903 (Mon-Fri, 9am-8pm & Sat, 9am-6pm).
If you are one of the first 500 guests booking their trip, you will receive an exclusive early-bird shirt, the Cruise anthem "Hard on the Wind" and a DVD with all the Harry Metal podcasts from the first FMC.
During the five-day journey, almost all drinks and meals are included (see below for details). The cost for an inside cabin occupied by two people starts from €799 per person, including the flight from €1,149 per person. The price for an outside cabin starts at €1,149 per person, including the flight from €1,499 per person. The full list of prices for all cabins and categories as well as information regarding single booking or more than two persons per cabin can be found HERE .
The billing for the three stages on board is coming together. Joining the Cruise will be two legendary German Thrash outfits, Sodom and Tankard, while the one and only Metal Queen Doro will take part with a special Unplugged show. For the supporting programme aside all the moshing, we have Russkaja with their wild kind of Turbopolka and Pressgäng with shanty songs and stories from the high seas. More bands and headliners for the concerts on board and on land will be announced in the coming months.
Already confirmed have been Hammerfall, Subway to Sally, JBO and Saltatio Mortis as well a comprehensive supporting programme featuring The AllStarBand with Uli Jon Roth, comedy with Bembers, Metal Karaoke, Meet & Greet with the stars, readings, movies, tattooing, Metal wellness and musicians' workshops and of course Mambo Kurt.
Saltatio Mortis are very much looking forward to the Cruise, as you can see and hear:
<iframe width="640" height="360" src="//www.youtube.com/embed/HE4SCD1aTMA?feature=player_detailpage" frameborder="0" allowfullscreen></iframe>
The travel route and time schedule of the Mein Schiff 1 can be seen HERE.
Join the Cruise, Metalheads!