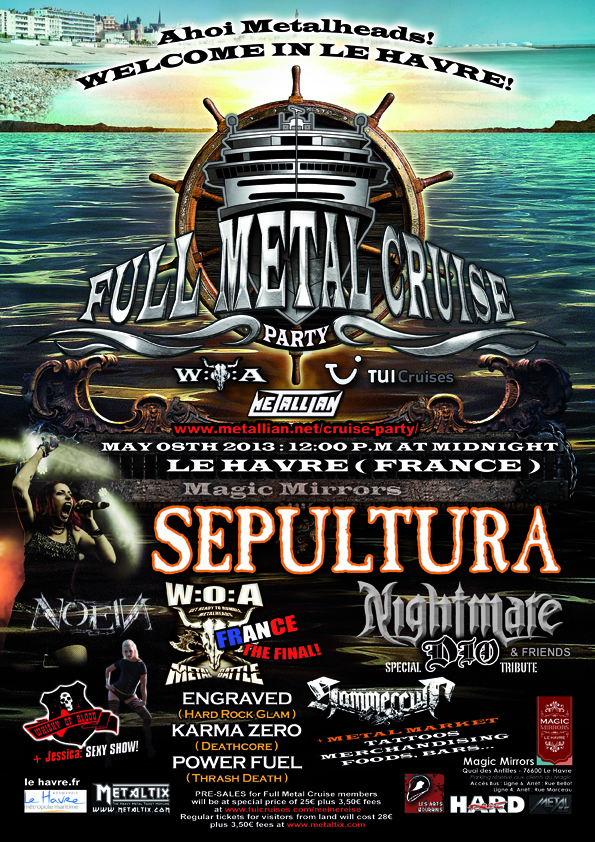 Full Metal Cruise: Land concert in Le Havre & more bands for the ship
Ahoi metalheads!
Here is a news update for the party schedule: In Le Havre, the second stop of our journey, a huge "Full Metal Cruise Party", presented by the French Metallian Magazine, will take place all day.
Land concert in Le Havre
The party will happen in a cool circus tent called Magic Mirrors. Brazilian Groove and Thrash legends Selpultura will play as well as French metal pioneers Nightmare with a special tribute to Dio, which you won't see anywhere else. Taking part in this will be well-known special guests, which we will let you know shortly.
Also on the bill are Hammercult, the Israeli Thrashers who won the worldwide W:O:A Metal Battle in 2011, Noein with their brutal Cyber Metal sound, currently the hottest newcomers of the French scene and winner of the W:O:A Metal Battle France 2011, and Whiskey Of Blood who present their brand of Rock'n'Roll with sexy dancing model Jessica. In addition, there will be a metal market, booths, tattoos, drinks and food and also the finals of the French W:O:A Metal Battle featuring Engraved from Marseille (Hard Glam), Power Fuel from St Quentin (Thrash Metal) and Karma Zero from Nantes (Deathcore). Starting at noon, the four finalists will give anything they have.
The Magic Mirrors venue can be reached by foot, it's not far from the landing point of Mein Schiff 1. Details, running order and location maps will be published soon here. Full Metal Cruise members will get the ticket for a special price of 25€ plus 3,50€ fees at www.tuicruises.com/meinereise. Regular tickets for visitors from land will cost 28€ plus 3,50€ fees and are available at Metaltix. The presale starts now.
More bands aboard the ship
Moreover we can confirm further acts and never before heard unplugged shows for the cruise. Fans of the worlds of Thrash and Death Metal can look forward to German veterans Dew-Scentedy, C.O.P. UK bring high class Melodic Metal from England, while Devil´s Train with singer RD Liapakis (Mystic Prophecy) and the two Stratovarius veterans Jörg Michael (Drums) and Jari Kainulainen (Bass) deliver the Rock. And if there is one band that just has to be on a ship like this, it's German shanty rockers Santiano!
Devil's train invite dancers to the stage!
As you all know, Devil's Train are renowned for ass-kicking, smoking fast and dirty Rock 'n Roll. Oh, and not to forget, of course they like hot girls who know how to move in the right way. If you need any proof of that, check out their videos for 'Sweet Devil's Kiss' and 'American Woman'. To support them, they are looking for some crazy cool chicks who want to rock with them on stage - oh, we are speaking about some table dance moves, right? Right!!
So, if you have a ticket for the Full Metal Cruise, love dancing and enjoy having fun rocking and moving on stage, then this goes out to you! Please send your applications with your name and a short introduction of who you are to contact(at)full-metal-cruise.com and with a bit of luck you could be one of the chosen ladies who will rock with Devil's Train live on stage at Full Metal Cruise 2013!
Unplugged at sea
Since there are a lot of cool places on a cruise ship apart from the three stages, we have something special and unique for anybody who would like some rest after an intense moshing session: Several unplugged sessions on the ship. Among others, Doro, the queen of metal, will sing accompanied only by the soft sounds of an acoustic guitar. Furthermore, Onkel Tom, who never hold back on decibels, as well as Mutz, front man of Drone, will present their guitars, their voices and their arsenal of classic songs unplugged.
More details about the band program onboard and about the whole program will be out soon. Stay tuned for more!
See you onboard!
Special price offer for balcony cabins
For all the Heavy Metal fans who didn't book a cabin for the Full Metal Cruise from May 5th to May 12th yet, there will be an attractive price offer starting at January 17, 2013. The balcony cabin will be available for booking for a special flex price of 1.995 Euro per person. This price includes the Full Metal catering as well as the Full Metal Cruise entertaining program on board. The flex price means that the guests just choose the cabin category, the exact cabin number will be told by TUI Cruise within the travel documents.
At the Full Metal Cruise, the food in most of the restaurants is included in the travel price. Furthermore, all Full Metal Drinks will be inclusive: The whole day drinks like beer, soft drinks, coffee, tea, non-alcoholic cocktails and different wines are for free in all bars and lounges. From 6pm on a big choice of spirituous beverages, cocktails and long drinks are for free as well.