Important
This article is VERY old (older than 2 years)!
Full Metal Mountain: Pre-sale information and first band announcements for 2018!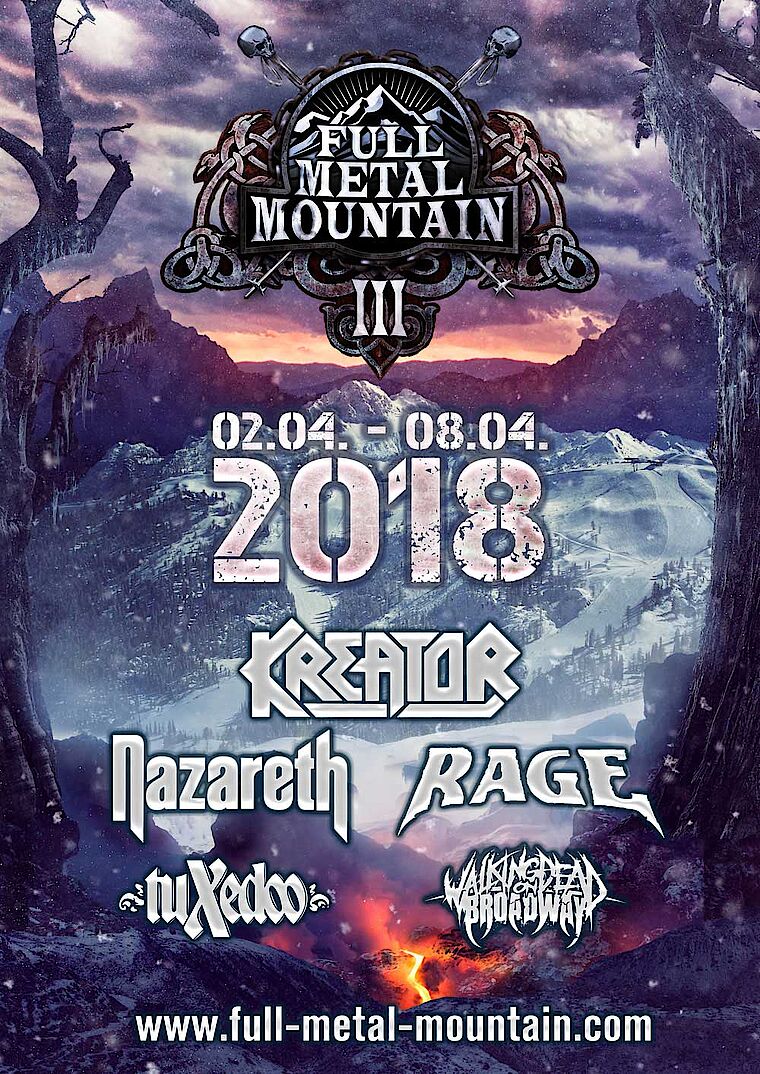 The Full Metal Mountain summer break is already over and as promised, we will release the first information about the mega-event in 2018.
Don´t miss it – the pre-sale start!
The pre-sale for the Full Metal Mountain 2018 starts at 22nd September, 2017. As always the bundles of festival-ticket, accommodation and lift-tickets will be available only here at www.full-metal-mountain.com.
Of course the event takes place in the Austrian Nassfeld again – it´s already the third time we will rock together there.
To do so, we announce you the first bands that will shake the mountains together with you. Watch out for the trailer below here or simply go on reading.
<iframe width="490" height="276" src="https://www.youtube.com/embed/-BymhbIAY6E" frameborder="0" allowfullscreen></iframe>
The first bands for 2018:
German Thrash-Metal-titans Kreator have released their chart-breaking-album "Gods of Violence" this spring and can´t wait to present you their new songs killer-songs as well as their old classics live. Hail the Gods of Violence!
Since 1968 Nazareth are one of the most influential Hard-Rock-bands, with millions of album sales worldwide. But still the Scottish rockers don´t think about their retirement and are one of the highlights at the Full Metal Mountain.
Rage have had a huge influence on the Power Metal and will release their new album "Seasons Of The Black" at the end of July. Reasons enough to welcome the metallers at the Full Metal Mountain 2018!
Walking Dead On Broadway from Leipzig have caught attention with their "Slamcore-Terror-Beatdown". We are happy to have them in the running order for the Full Metal Mountain 2018.
Last but not least: Our friends of Tuxedoo will shake the Alps in 2018 again with their mix of Metalcore and Thrash-Metal.
See you at the Mountain!
Full Metal Mountain 2018
02nd April – 08th April, 2018 in Tröpolach – Pre-sale from 22nd September, 2017.