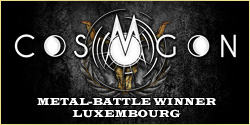 Further Metal-Battle bands confirmed!
Four more Metal-Battle finalists can be confirmed today: Cosmogon from Luxembourg, Crying Steel from Italy, Evocation from China and Trouble Agency from Belgium!
Founded in 2011 out of the ashes of Luxemburg's Death Metal Pioneers EX INFERIS, Cosmogon is the answer to a strong belief in and a perennial need for pure handmade Rock and Metal. Steven Elkington from Thrash-Metal Act ABSTRACT RAPTURE joined the Band and fills it all with his tight Bass playing. First live show 28th January 2012 in Kulturfabrik Esch at Desdemonias 15th Anniversary Festival. In spring 2013 Dani da Cunha joined Cosmogon to replace Steven. In 2014 they won the Metal-Battle finale in Luxembourg.
Crying Steel was founded in 1982 in Bologna and have a long history filled with successful records, line-up changes and sold out shows they splitted up in 1992. After a long 11 years lasting break they returned in 2003 and signed with Mygraveyard Productions to release a brand new album which was called "The Steel is Back". The recent album is called "Time stands Steel" and was released in 2013. This year they won the Italian Metal-Battle and they are now more than ready to show the world of which steel they are made of!
Evocation was formed in 2002 and one of the leading death/black metal bands from Hong Kong. Characterized by its blending of Eastern instrumentation and black death metal. Until 2010 the band experienced a few line-up changes but since than the line-up is final and the band was invited to a lot of big asian festivals and played side by side with bands like
Orphaned Land, Parkway Drive, Chthonic and Defiled just to name a few.
The latest album Abracadabra was released in 2013 and now after they won the finale in China the band prepares itself for Wacken!
Trouble Agency were formed in 1993 by ex-band members of Cyclone, Necrosis and Decedence. After another few line-up changes and a lot of live performances together with bands like Immortal they released their first demos. The bands first full length studio album "Moneycracy" was released in 2006. After more years passed by including successful shows with bands like Six Feet Under, Anvil, Hypocrisy and a lot more the released their second album "The Last Shot" in 2011. Now the band has done the next step by winning the national Metal-Battle finale 2014 in Belgium and they are more than ready to rock Wacken!
Congratulations to all the bands! We are looking forward to see you live on stage in August!