Important
This article is VERY old (older than 2 years)!
Hamburg Metal Dayz – Bands and single day tickets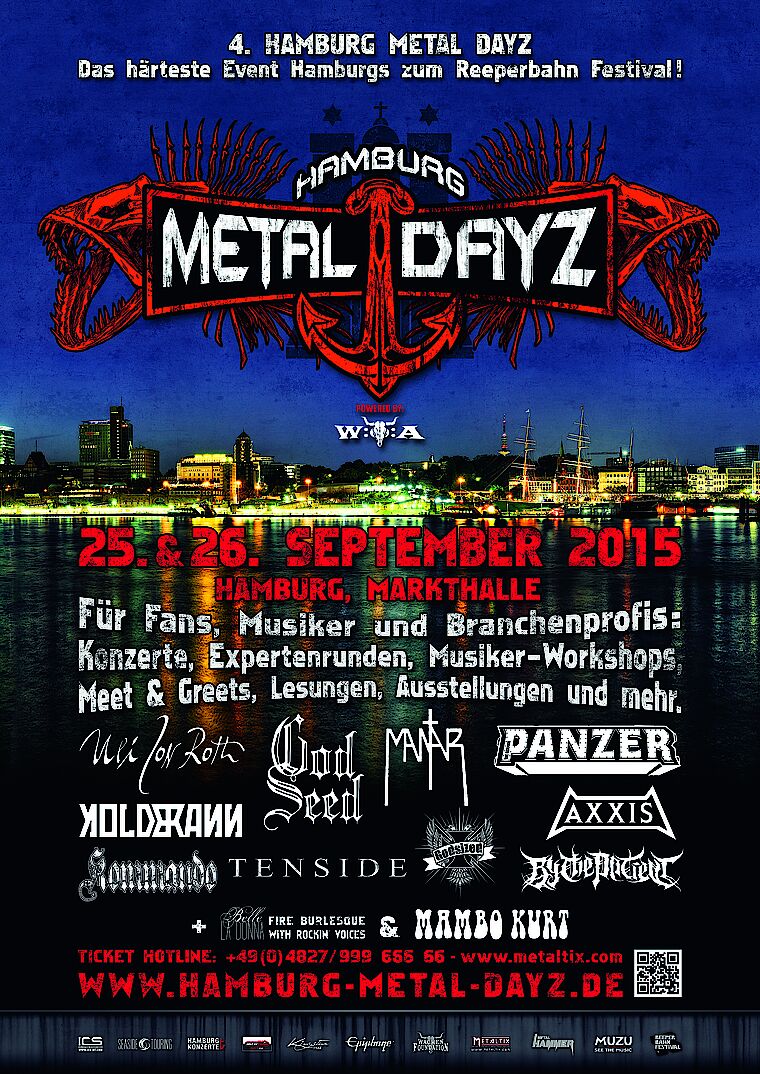 The wait is over: We reveal the bands for the fourth Hamburg Metal Dayz! The headliner for Saturday and another act will be announced later. This also means that single day tickets for September 25 and 26 go on sale. Of course combination tickets for both days are available, too. Where? At www.metaltix.com! But now for the bands:
Friday, September 25, is focused on black metal. With God Seed we welcome true masters of this discipline. None other than ex-Gorgoroth-members Gaahl and King ov Hell founded this band in 2009. Prepare for grim metal with a progressive edge, straight out of the genre's cradle, Norway.
The land of fjords and trolls is the origin of Koldbrann, too. With their raw black metal in the vein of the early 90s, they even get compared to Gorgoroth's material of those days. While never shying away from including new elements, Koldbrann stick to their own style, play with ambience and frenzy alike and definitely stay original.
The two man army that is Mantar has received a lot of praise following the release of their debut "Death By Burning". And rightly so: Singer / guitarist Enno and drummer Erinc combine black, doom, crust and hardcore to a unique and hard-hitting blend. We're really looking forward to see these internationally acclaimed newcomers in their chosen hometown.
If you ask Kommando what they offer, you'll get the reply "Blackened Crvst:Machinegvn Pvnk". So be warned, this is going to be something heavy: Black metal for the circle pit, hardcore with killer rivets, pogo for Satan! You might even recognize familiar faces, for example from Endstille.
Godsized add a different flavor to the line-up. The five guys from the UK are about to release their second album "Heavy Lies The Crown" and bring their heavy, riff-ladden songs to Hamburg's Markthalle. Get ready for some tunes inspired by Black Sabbath, Led Zeppelin and Pantera.
In 2010, Denmark participated in our W:O:A Metal Battle for the first time. By The Patient emerged as the country's winners. Five years later, they can look back on three albums, including their latest offering "Gehenna". This means, you can look forward to headbanging material infused with elements from black, death and thrash metal.
On Saturday, September 26, fans of heavy metal and hard rock will have a lot of reasons to celebrate. Panzer, for example, are a true supergroup made in Germany, consisting of "Schmier" (Destruction), Herman Frank and Stefan Schwarzmann (both ex-Accept). Together they play martial metal with the best of both worlds, heavy and thrash.
Uli Jon Roth is a living legend, being called an inspiration by no less legendary musicians. Right now, he invites us to join him on a journey back through time by reinterpreting the best songs from his time with the Scorpions. So you can not only expect a lesson in the art of playing guitar, but also some of the best rock songs ever written in Germany.
Axxis just celebrated a quarter century of band history. But don't worry: These Metalheads from Dortmund, North Rhine-Westphalia, still know how to rock – even 25 years after the release of their groundbreaking debut "Kingdom Of The Night". Fancy some good old power metal? Look no further and party with Axxis in Hamburg.
In comparison to the aforementioned acts, Tenside are relatively young. Since their foundation in 2004, these guys from Munich have played Europe's festivals, where they got the crowds in motion with the songs off their five regular longplayers.
In addition to these announcements, we offer you a first glimpse on the rest of Hamburg Metal Dayz 2015's program: Belle La Donna will enchant you with her Special Burlesque & Fire Shows and Mambo Kurt, King Of Home Organ, asks you to join him in the celebration of some the greatest hits ever.
This is not everything, look forward to further additions, including Saturday's headliner, more specials and of course panels and workshops on the latest trends in our favorite genre of music!
As of today, single day tickets (Friday € 28,- , Saturday € 31,-; both plus fees) and combination tickets for both days (€ 50,- plus fees) are available at Metaltix. Get them fast and be part of the Hamburg Metal Dayz 2015!
Hamburg Metal Dayz 2015
25. - 26.09. Hamburg, Markthalle
Line-up:
Friday: God Seed, Mantar, Koldbrann, Kommando, Godsized, By The Patient
Saturday: Panzer, Uli Jon Roth, Axxis, Tenside + Headliner & TBA