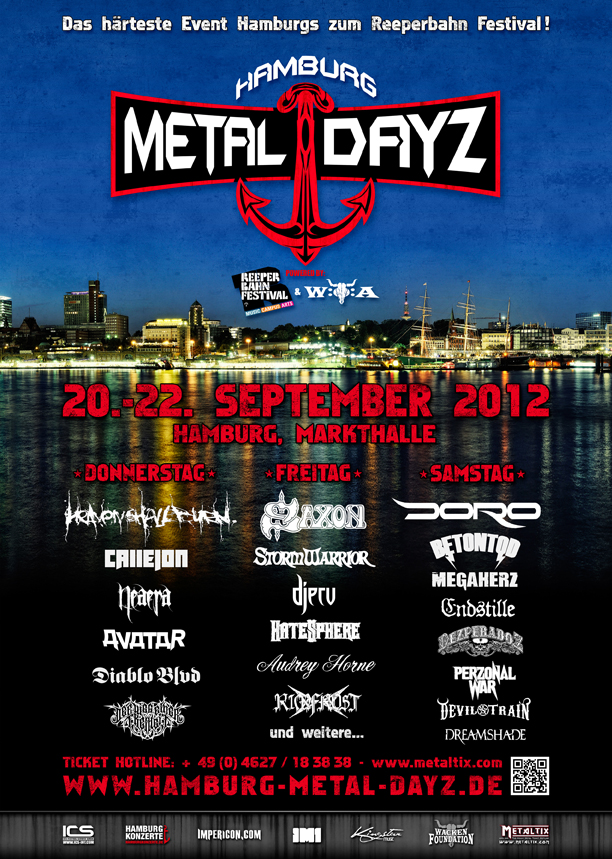 Hamburg Metal Dayz - Meet Greet schedule, artwork exhibition + W:O:A band announcements on Friday
Dear Metalheads,
From today on most of the Meet & Greet schedule for Hamburg Metal Dayz is online.
The Meet & Greetschedule can be found in the RUNNING ORDER. The last few missing slots will be announced in the following 2 days.
ARTWORK EXHIBITION: Some of you might know the name Tim Eckhorst already – hardcore W:O:A fans know him or at least his black-and-white art works from the last Wacken Open Air festivals. On the upcoming Metal Dayz he is displaying a choice of different kind of pictures –come around and have a look!!!
Further info about the whole schedule, workshops, readings and more can be found HERE
As announced before we will confirm further bands for Wacken 2013 at the Hamburg Metal Dayz on Friday.
One of these bands will be a real top act! The name of the bands will be revealed on Friday 21st of September 2012 at the Hamburg Metal Dayz and published a little later on our homepage and via Facebook.
Further info will follow
Due to the shipping time the remaining tickets for Hamburg Metal Dayz will be only available at the box office.
Tickets for W:O:A 2013 are available at www.metaltix.com
Ticket-Hotline: +49 (0) 4627 / 183838
Everything else under:
yours
W:O:A & Hamburg Metal Dayz Team