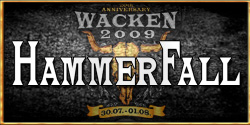 HammerFall - Announcement of album title and tracklist
The new HAMMERFALL album, which is going to be released February 20, 2009, is entitled "No Sacrifice, No Victory". The cover was designed by Sam Didier and the whole layout came from Thomas Ewerhard.
Here is the tracklist of the album:
01. Any Means Necessary
02. Life Is Now
03. Punish And Enslave
04. Legion
05. Between Two Worlds
06. Hallowed Be My Name
07. Something For The Ages
08. No Sacrifice, No Victory
09. Bring The Hammer Down
10. One Of A Kind
11. My Sharona [THE KNACK Coverversion]
The video shooting for the first single "Any Means Necessary" will take place in Belgrad.
Source: www.metalnews.de