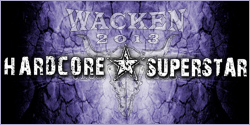 Hardcore Superstar & Naglfar behind door No. 11
With today´s calender door we can confirm 2 more bands for our billing - Hardcore Superstar & Naglfar
Hardcore Superstar brings Swedish sleaze metal with hit potential to the Wacken Open Air 2013! The band was found in the Swedish No. 1 metal town Göteborg in 1997 and by now they have released several album and singles. Their singles usually became top hits in Sweden and the band got some Grammy nominations too. In 2013 they will come to Wacken for the first time ever, but previously they will release their new album!
More info at Billing/Bands
Also the Swedish black metal steamroller Naglfar can exhibit a long band history with several releases, line-up changes and musical progression. In 2001 and 2005, the band already visited the festival and in 2013 they will return with their actual album Téras.
More about Naglfar at Billing/Bands
And here are the x-mas winners from the 10th of december 2012:
Sebastian S - Goldenstedt
Karin V - Wattenbek
Marina M - Uetersen
Ida W - Kråkerøy (Norway)
Camilla S - Umea (Sweden)
All winners were already informed by mail!
Tomorrow we will announce the next band and xmas winners!