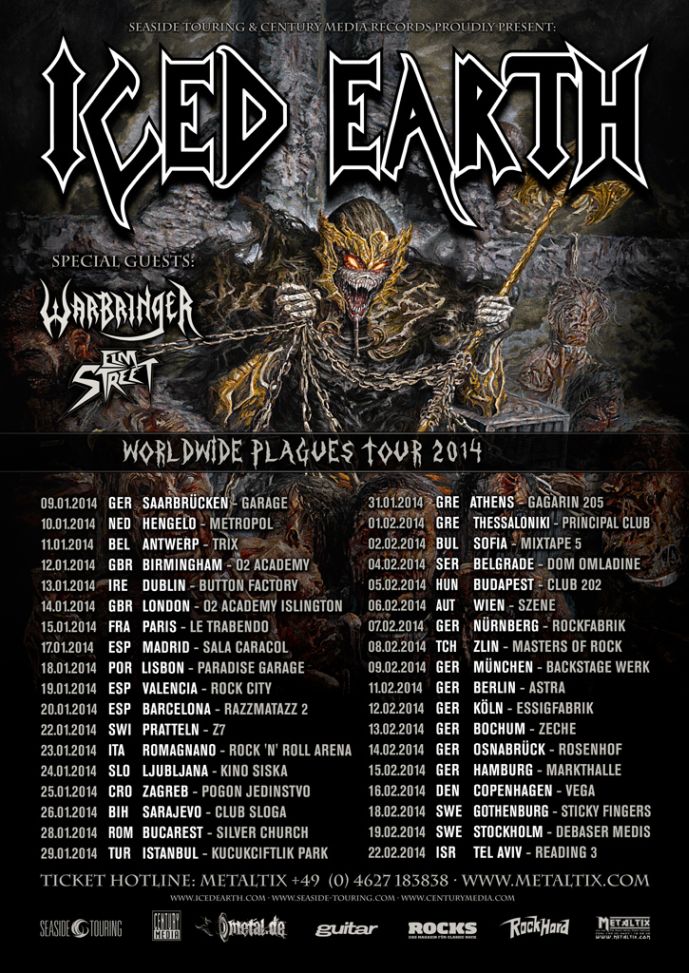 Iced Earth - Title song of the upcoming album released + tour dates
Iced Earth are currently on European tour as main support of Volbeat. But there is also a lot going on regarding their upcoming album. The band has just released the title track "Plagues of Babylon" as Lyric Video video (in Co-operation wiht ROCK HARD Germany).
Everybody who can´t wait for January can already afford the limited "The Plagues Ep" 12inch Vinyl. This record is limited to 1000 copies worldwide and only available on their current tour.
Check out the new clip Plagues of Babylon:
<iframe width="640" height="360" src="//www.youtube.com/embed/7yLBNRyGvG8?feature=player_detailpage" frameborder="0" allowfullscreen></iframe>
Here are the dates:
On European tour as direct support of VOLBEAT
12.10.2013 FRA Strasbourg La Laiterie
13.10.2013 LUX Luxembourg Rockhal
14.10.2013 FRA Lille Aeronef
16.10.2013 GBR Birmingham Acedemy
17.10.2013 GBR Glasgow O2 ABC
18.10.2013 GBR Manchester Acedemy
19.10.2013 GBR London Brixton
21.10.2013 ESP Bilbao Santana 27
22.10.2013 ESP Barcelona Apollo
23.10.2013 ESP Madrid La Riviera
25.10.2013 FRA Paris Bataclan
06.11.2013 GER Berlin O2 World
07.11.2013 BEL Brussels Forest National
08.11.2013 GER Karlsruhe Europahalle
09.11.2013 GER Leipzig Arena
11.11.2013 GER Hamburg O2 World
12.11.2013 GER Köln Lanxess Arena
13.11.2013 GER München Olympiahalle
14.11.2013 SWI Zürich Hallenstadion
16.11.2013 AUT Hohenems Eventcenter
17.11.2013 AUT Wien Stadthalle
18.11.2013 AUT Graz Stadthalle
20.11.2013 GER Frankfurt Festhalle
21.11.2013 NED Amsterdam Ziggo Dome
23.11.2013 DEN Herning Boxen
24.11.2013 DEN Copenhagen Forum
25.11.2013 SWE Gothenburg Scandinavium
26.11.2013 SWE Stockholm Tele 2 Arena
28.11.2013 FIN Helsinki Hartwell Arena
30.11.2013 NOR Oslo Spectrum
01.12.2013 DEN Copenhagen Forum
"Worldwide Plagues" - European headliner tour with WARBRINGER and ELM STREET
09.01.2014 GER Saarbrücken Garage
10.01.2014 NED Hengelo Metropol
11.01.2014 BEL Antwerp Trix
12.01.2014 GBR Birmingham O2 Academy
13.01.2014 IRE Dublin Button Factory
14.01.2014 GBR London O2 Academy Islington
15.01.2014 FRA Paris Le Trabendo
17.01.2014 ESP Madrid Sala Caracol
18.01.2014 POR Lisbon Paradise Garage
19.01.2014 ESP Valencia Rock City
20.01.2014 ESP Barcelona Razzmatazz 2
22.01.2014 SWI Pratteln Z7
23.01.2014 ITA Romagnano Rock 'n' Roll Arena
24.01.2014 SLO Ljubljana Kino Siska
25.01.2014 CRO Zagreb Pogon Jedinstvo
26.01.2014 BIH Sarajevo Club Sloga
28.01.2014 ROM Bucarest Silver Church
29.01.2014 TUR Istanbul Kucukciftlik Park
31.01.2014 GRE Athens Gagarin 205
01.02.2014 GRE Thessaloniki Principal Club
02.02.2014 BUL Sofia Mixtape 5
04.02.2014 SER Belgrade Dom Omladine
05.02.2014 HUN Budapest Club 202
06.02.2014 AUT Wien Szene
07.02.2014 GER Nürnberg Rockfabrik
08.02.2014 TCH Zlin Masters Of Rock
09.02.2014 GER München Backstage Werk
11.02.2014 GER Berlin Astra
12.02.2014 GER Köln Essigfabrik
13.02.2014 GER Bochum Zeche
14.02.2014 GER Osnabrück Rosenhof
15.02.2014 GER Hamburg Markthalle
16.02.2014 DEN Copenhagen Vega
18.02.2014 SWE Gothenburg Sticky Fingers
19.02.2014 SWE Stockholm Debaser Medis
22.02.2014 ISR Tel Aviv Reading 3
Tickets for the german Wordwide Plagues Tour 2014 dates are available at www.metaltix.com
Ticket-Hotline: +49 (0) 4627 - 18 38 38
ICED EARTH online:
www.facebook.com/OfficialIcedEarth
www.youtube.com/officialicedearth