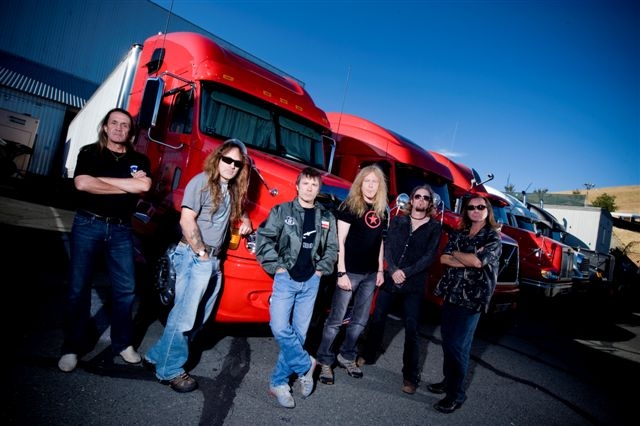 Iron Maiden - announce new studio album
IRON MAIDEN are pleased to announce that their forthcoming new studio album will be called 'THE FINAL FRONTIER', and is expected be released late summer of this year.
The announcement comes with news of a North American Tour with Very Special Guests Dream Theater to open in Dallas, Texas, on 9th June and finish in Washington D.C. on 20th July, making it Maiden's most extensive North American tour in many years.
Following these shows in USA and Canada The Final Frontier World Tour will travel back to Europe for a few selected major festival and stadium shows (full currently confirmed dates below) with the band planning to continue to many other countries in 2011.
An exclusive pre-sale allowing members of the IRON MAIDEN fan club first access to tickets to the North American Maiden Shows will be made available two days prior to them being available to the public. For full details go to www.ironmaiden.com
Tickets for the Canadian shows will go on sale to the public on Saturday 13th March At 10 am EST
Tickets for the US Shows will go on sale to the public on Saturday 20th March at 10am EST.
As IRON MAIDEN are actively dedicated to ensuring their fans always have access to the best possible tickets at the fairest possible price, without being subject to scalping for good seats, so many North American shows will operate, at least in part, a paperless ticket policy: More information on Ticketmaster Paperless Ticketing can be found here www.ticketmaster.com/paperless
To give IRON MAIDEN fan club members a privileged insight to their touring world, IMTV will return to www.ironmaiden.com to cover THE FINAL FRONTIER WORLD TOUR. This exclusive footage includes regular footage from the live shows, touring, band interviews, insights into our crew and what they do and much much more. The website will also feature exclusive tour diaries, photographs and anything else that helps the fans get a real insight into the dynamics of a big tour.