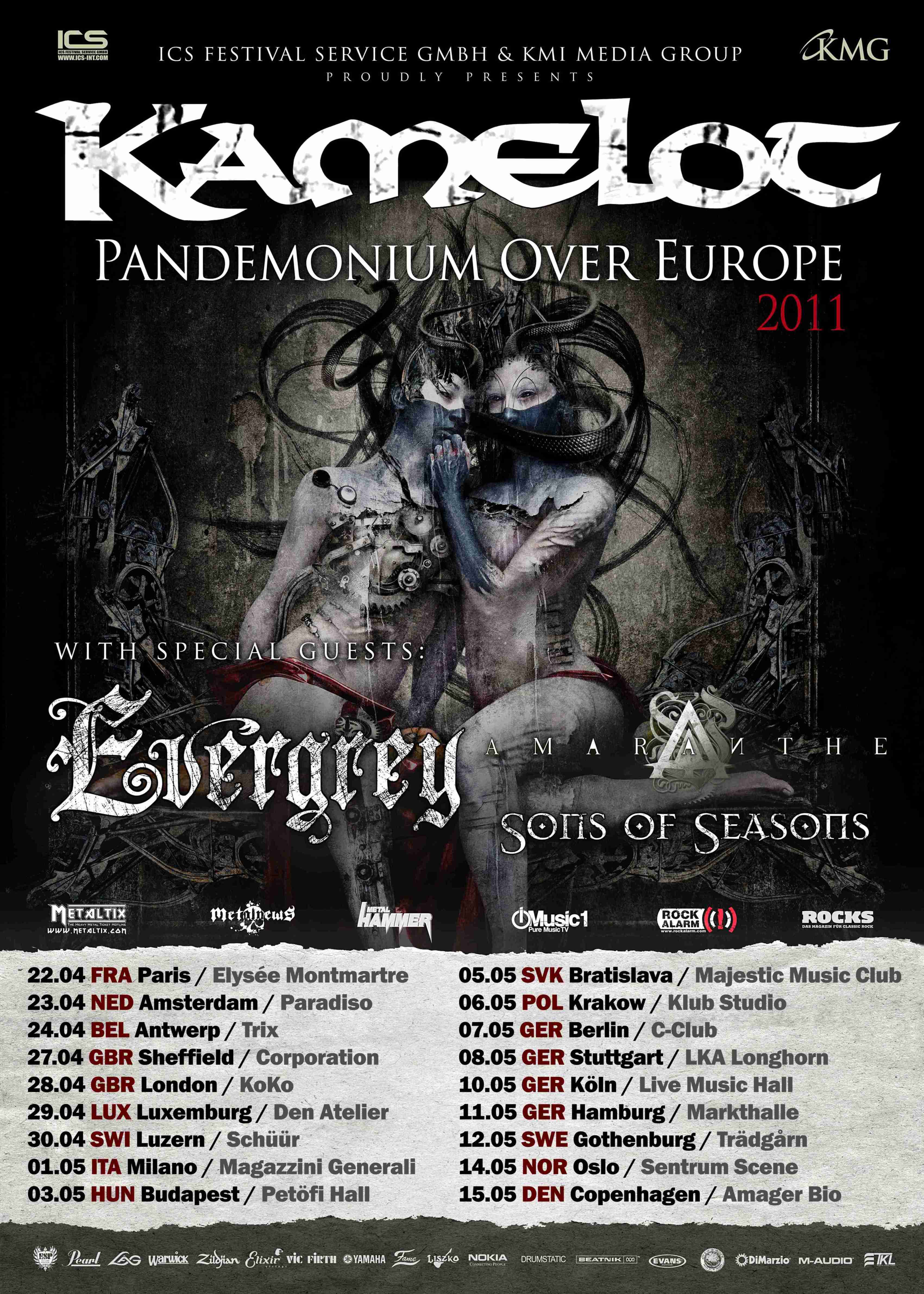 After 20 years in music business, extensive touring and endless gigs, US americans Kamelot once again start a great world tour.
With their "Pandemonium" tour Kamelot will impress their fans in South America, Europe and North America.
Their opus "Poetry Of The Poisoned" was released in 2010 and is the band´s most empathetic and ambitious project.
Lately Kamelot posed the official tour trailer online:
<script type="text/javascript" src="http://wackentube.com/js/embed.js.php?id=2596"></script> <noscript> <object type="application/x-shockwave-flash" data="http://wackentube.com/vimp.swf?playlistmode=media&amp;mediaid=2596&amp;webtv=false&amp;hosturl=http%3A%2F%2Fwackentube.com%2Fflashcomm.php" id="flashcontent_4d3847760f932" classid="clsid:d27cdb6e-ae6d-11cf-96b8-444553540000" name="c6a80378-3eb2-47e7-8415-ba1f7cff037e" codebase="http://fpdownload.macromedia.com/pub/shockwave/cabs/flash/swflash.cab#version=9,0,0,0" width="480" height="360" align="middle"> <param name="movie" value="http://wackentube.com/vimp.swf?playlistmode=media&amp;mediaid=2596&amp;webtv=false&amp;hosturl=http%3A%2F%2Fwackentube.com%2Fflashcomm.php" /> <param name="width" value="480" /> <param name="height" value="360" /> <param name="align" value="middle" /> <param name="quality" value="high" /> <param name="allowscriptaccess" value="always" /> </object> </noscript>
Tourdates:
KAMELOT
Special Guests: Evergrey, Amaranthe and Sons of Seasons
(from 22.04. to 15.05.2011)
07.04.2011 - CHI in Santiago De Chile / Teatro Teleton
08.04.2011 - ARG in Buenos Aires / Velez Sarsfield *
09.04.2011 - BRA in Sao Paulo / Espaço Lux
12.04.2011 - COL in Bogota / Teatro Metropol
14.04.2011 - MEX in Mexico City / Circo Volador
22.04.2011 - FRA in Paris / Elysee Montmartre
23.04.2011 - NED in Amsterdam / Paradiso
24.04.2011 - BEL in Antwerp / Trix
27.04.2011 - GBR in Sheffield / Corporation
28.04.2011 - GBR in London / KoKo
29.04.2011 - LUX in Luxemburg / Den Atelier
30.04.2011 - SWI in Luzern / Schüür
01.05.2011 - ITA in Milano / Magazzini Generali
03.05.2011 - HUN in Budapest / Petöfi Hall
05.05.2011 - SVK in Bratislava / Majestic Music Club
06.05.2011 - POL in Krakow / Klub Studio
07.05.2011 - GER in Berlin / C-Club
08.05.2011 - GER in Stuttgart / Longhorn / LKA
10.05.2011 - GER in Köln / Live Music Hall
11.05.2011 - GER in Hamburg / Markthalle
12.05.2011 - SWE in Gothenburg / Trädgårn
14.05.2011 - NOR in Oslo / Sentrum Scene
15.05.2011 - DEN in Copenhagen / Amager Bio
* /w Iron Maiden
For tickets have a look at: