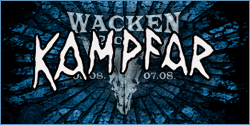 Kampfar behind door no. 20
HOHOHO – Let there be Black Metal. For the 12th of december we can present the 4 Norwegians from KAMPFAR.
More info at Billing/Bands
The winners of 19th december are:
Arno K. - Rockenberg
Franziska F. - Füg
Elisa H. - Hamburg
Guido S. - Mönkenberg
Melanie D. - Lambrecht
These persons are already informed per mail about their prizes
We wish all winners a lot of fun with their prizes!