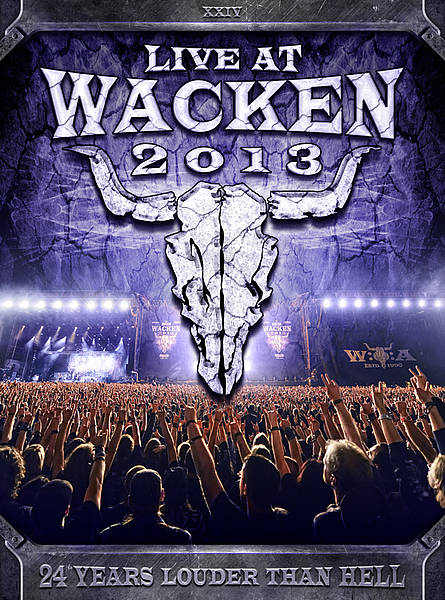 Live at Wacken 2013 - To be released on July 25th, 2014
On Friday July 25th, the new "Live at Wacken 2013" will be released in stores.
"Live at Wacken 2013" will be released as tripple DVD / tripple Bluray edition and double CD edition. The DVD and Bluray editions will feature live footage of 106 songs from 43 bands (with highlights like Alice Cooper, Nightwish, Sabaton, Motörhead Deep Purple, Annihilator, Anthrax, Lingua Mortis Orchestra feat. Rage und Ugly Kid Joe)
The audio version on 2 CDs features 32 highlights. "Live at Wacken 2013" is available on July 28th (UK) and 28th (US), on DVD, CD, BluRay Amaray and as digital download.
What's even better, there are some gems hidden in some of these: One Golden Ticket for a "Lifetime Membership for the W:O:A" giving the lucky winner the opportunity to enjoy the festival every year till eternity without buying a ticket. Also randomly included are 10 Silver VIP Tickets for 2015 that include a tour through the Artist Village on the festival grounds. A dream comes true for any Metalhead...
And now we want to give you another little foretaste of Live at Wacken 2013 with the 10 minutes lasting EPK:
<iframe width="640" height="360" src="//www.youtube.com/embed/Q2TYhylKA5I?feature=player_detailpage" frameborder="0" allowfullscreen></iframe>
"Live at Wacken 2013" even serves a good cause that keeps heavy music alive: All bands and labels have donated their royalties to the Wacken Foundation, a non-profit organisation in support of the Hard Rock and Heavy Metal scene (www.wacken-foundation.com). UDR Records will also be making a donation of 1 Euro for each and every DVD & CD sold, with everyone involved, from manufacturing to marketing, supporting the Foundation.