Important
This article is VERY old (older than 2 years)!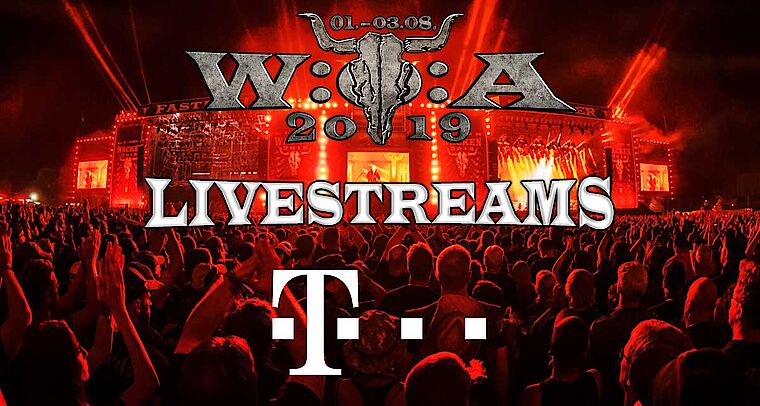 Even though nothing compares to the live festival experience, we continue to offer you a lot of concerts in our worldwide livestream this Friday via the Deutsche Telekom at stream.wacken.com and magenta-musik-360.de!
The dark is on - with CRADLE OF FILTH from 2:15 to 3:15 pm on the Harder-Stage. The band is currently working on a new album which should be released in 2020 - maybe there is already a sample for us?
We continue with the finest Southern Rock by BLACK STONE CHERRY from 3.25 to 4.25 pm on the Faster Stage.
Afterwards, from 4.35-5.50 p.m., pioneers of rap metal, will enter the Harder Stage: BODY COUNT FEAT. ICE-T. This concert marks a highlights of this year's W:O:A, since Ice T, Ernie C. and the rest of the band will play only two concerts in Germany in 2019, and the only open air show will be right at the Holy Ground!
From 6-7.15 p.m., ANTHRAX will deliver first-class Thrash Metal from the Faster Stage. These guys wrote the book, so expect some mighty, mighty riff mixed with Joey Belladonna's fantastic voice. Let the moshing begin!
Between 7:30 - 8:45 pm the attention of the whole festival then belongs to WITHIN TEMPTATION. The Dutch symphonic metal band is in the form of their life and will heat us up a lot.
You can also be especially excited about DEMONS & WIZARDS. 9 - 10:30 pm is the playtime for the band around Hansi Kürsch from Blind Guardian and Jon Schaffer from Iced Earth.
Staying up late really pays off on Friday when from 0.30-1.45 a.m. the Swedes OPETH take the Faster Stage. To cap things off, HÄMATOM will give your ears proper bruises from 2-3 a.m., when they fire away on the Harder Stage.
Our livestreams once again give you the opportunity to experience Friday's concert festivities. Streams will be available worldwide in HD quality on Smartphone, Tablet, PC and EntertainTV. Some performances will even be recorded with a 360-degree camera. In addition, you can find interviews with artists and other clips in the Magenta Music Media Library.
The following livestreams are confirmed for Friday (all times are GMT+2):
2.15-3.15 p.m CRADLE OF FILTH
3.25-4.25 p.m. BLACK STONE CHERRY
3.35-5.50 p.m. BODY COUNT FEAT. ICE-T
6.00-7.15 p.m. ANTHRAX
7:30-9:45 p.m. WITHIN TEMPTATION
9:00-10:30 p.m. DEMONS & WIZARDS
10:45-00:15 a.m. TBC
0.30-1.45 a.m. OPETH
2.00-3.00 a.m. HÄMATOM
Links: stream.wacken.com and magenta-music-360.de