Important
This article is VERY old (older than 2 years)!
Madness ! Wacken Sold Out for the ninth time in a row!!!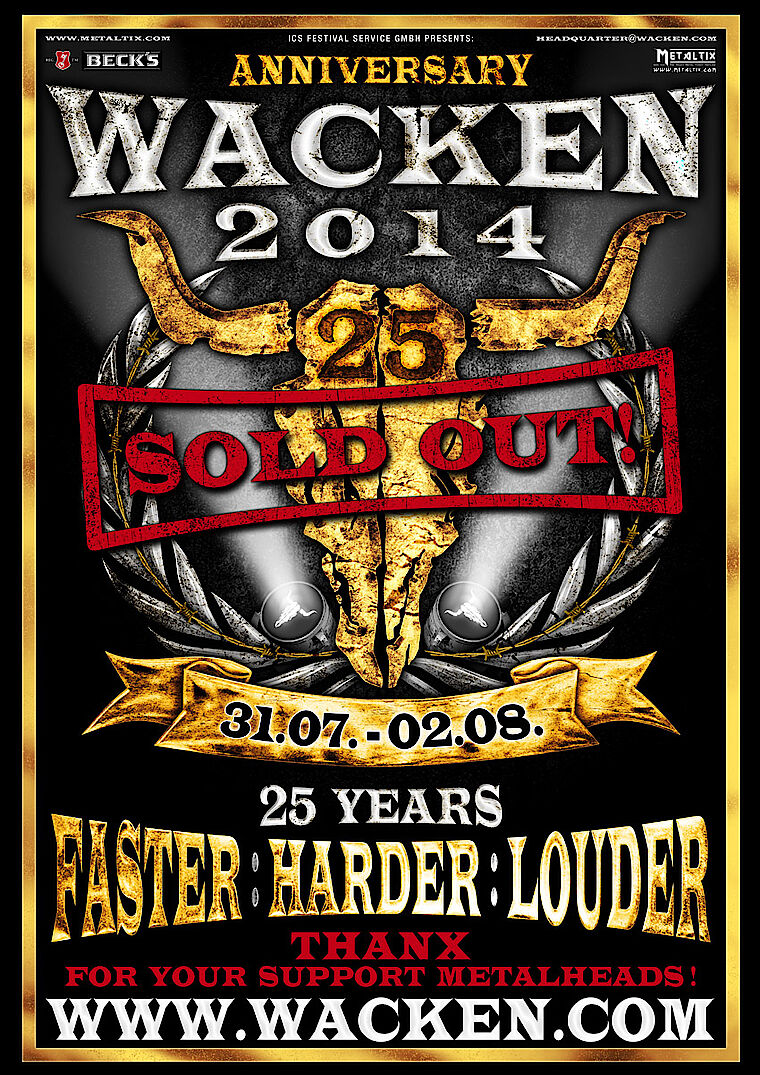 Today we can confirm that Wacken Open Air is SOLD OUT for the ninth time in a row!!!
And regarding the pre-sale time we have overcome the previous year by many times. We never had expected to reach the total SOLD OUT in less than 48 hours. All 75.000 tickets are sold.
THANX FOR YOUR SUPPORT, METALHEADS – THIS IS UNBELIVEABLE!!!
A dozen bands for the billing have been already announced including several special and exclusive shows as well as high-class acts. As every year we have made every effort to provide a terrific billing! And the announcements won´t stop. During the Hamburg Metal Dayz (27th to 29th of September 2013) and our online Advent Calendar in December we will at least confirm one band per day. Together we will turn the 25th Anniversay of Wacken Open Air into a mega party!
We will also offer various online features– so have a look at www.wacken.com or follow us on our official facebook account www.facebook.com/WackenOpenAir.official
although there are 12 months left until the festival starts and we are still busy with the deconstruction, the arrangements of course are already running. We can´t wait until next August. The tickets will be shipped (depending on the payment receipt) as soon as possible!
Important!!!: Tickets you hitherto ordered at Metaltix will be certainly delivered if you received an order acceptance! Please be aware that due to the enormous demand on tickets the processing of orders will take it´s time. So please be a bit patient.
For those who haven´t bought a ticket yet there are the following option:
Due to the masses of orders we assume that there will be several doublings and reversals for example due to missing payments after the deadline for paying is over. As soon as these reversed orders are filtered we will bring this small ticket contingent back on sale. We will inform you in time if and when this will happen.
First of all please have in mind that we are now working with a full ticket personalization. That means that selling as well as buying tickets on other platforms than metaltix.com or the ticket exchange are accusable (like I the last year). We fed in the personalization to beware you from rip-offs. The ones who still buy tickets elsewhere take the high risk to buy invalid tickets.
Furthermore you have the chance to offer or buy a ticket at our new upcoming ticket exchange. This new ticket exchange is completely anonymized! Purchasers and Sellers will automatically refered to each other in some kind of waiting list.
All info about the new ticket exchange as well as the new personalization can be found in the FAQ
Fans and loyalty were always the heart of the festival!
Blasting the North in August! See you in Wacken - Rain or Shine!
We thank you all again for your amazing support and your loyalty.