Metal-Battle 2015: News from all over the world plus Interview with Crescent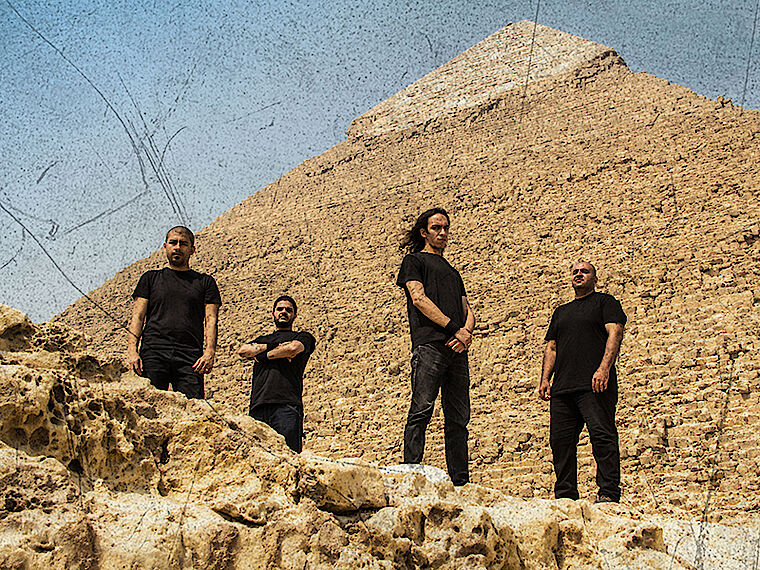 Today we provide you with further news from all around the Metal-Battle world and another interview with one of last year´s Metal-Battle finalists:
Let´s begin with new dates: Italy, Uruguay, Central America, Switzerland and Caucasian Republics have announced their preliminary and final shows.
Bands from Italy can register for the Italian Metal Battle from 01 MARCH till 01 APRIL 2015.
Uruguay, Switzerland and Central America have already announced their participating bands.
Find out more about each topic here: www.metal-battle.com
And now we will proceed with the next part of our Metal-Battle stories series. This time we have done an interview with Crescent who are last year´s finalists from Egypt. Check it out:
Pyramides are propaply the first thing that people associate with Egypt. But there's something more you should know about this ancient country: its Metal scene.
In 2014 Egypt took part in the Wacken Metal Battle for the first time. CRESCENT won the contest and represented Egypt at the international final at the Wacken Open Air.
So we took the opportunity to talk with Ismaeel, the vocalist of CRESCENT, about his band, their future plansand the Egyptian metal scene.
Can you tell us a bit about the metal scene in Egypt? Also I'm curious if there is something special you can tell us about being in a Death Metal band hailing from Egypt?
Egypt has a quite small scene comparing to other countries, but we have bands and projects arousing every while which is something quite positive.
We have few places mainly in Cairo and Alexandria where bands can perform at. Cultural centers for example. We have a known place that is located in the heart of Cairo called "Sawi Culture "Wheel" where they have 3 different stages at the same premises and one of them is looking over the Nile. It can basically contain 1000 to 1500 people. Due to the high density in particularly Cairo and Alexandria you find the venue almost packed but that's of course a ratio to the population.
There is nothing really special about being a Death metal band except that any metalhead is stereotyped as being a devil worshipper which is quite ridiculous. Due to some propaganda that happened before and hence any journalist who seeks flashy lines in a magazine can basically trade that topic. Yet some TV programs invited some metal heads and tried to introduce it to the Egyptian culture/society in order to embrace it which we see as a step forward.
CRESCENT is dealing with Egyptian history. There are some bands that aren't from Egypt but are also taking care about that topic. What is your opinion about that and what is your incitement dealing with this subject?
We tackle many subjects depending on what we reflect as artists from our surroundings. From socio-economic subjects to Egyptian mythology and history that can be also repeated in our modern history. We find no problem at all for other bands dealing with Egyptian History on the contrary it's a beautiful thing and it makes us even proud.
As CRESCENT is the first Egyptian band that played at the Wacken Open Air how was the reactions from the people on it? How did you feel about being the first band representing your country at the World's biggest metal festival?
When we won the local battle we saw people grinning/cheering/shouting out our name and some people were actually jumping out of happiness for such achievement. Of course our friends were there and were extremely anxious and happy for us which felt really great! It felt like a family actually to us.
It's a dream coming true!!! We felt that our hard work paid off and the prize was performing in Wacken with the big names. Representing Egypt made us extremely proud!
How were the reactions by the Egyptian scene on CRESCENT representing the Egyptian Metal Battle at the Wacken Open Air?
One small sentence they all said happily: "Well deserved"
Did the participation in the Metal Battle have any effect on the future of CRESCENT?
Also let us know about your the future plans.
We are honored to be part of this great very well organized colossal festival!! We are sure that this adds up a lot to our band profile! It definitely opens the door to be seen and heard by many people globally!!
We were on the Metal Apocalypse Euro tour with "Hirax,Bonded by Blood and Nuclear" that was our first full length album titled "Pyramid Slaves" tour which was one month before we performed in Wacken. Now it's time to focus on our new material that we have been already working on in parallel. We might also try to show up again in Europe probably next summer.
Check out Crescents show at the Wacken Open Air 2014: